The saga of the 43 missing college students in Mexico took another dark turn Tuesday when the leader of the gang that police believe was responsible for executing the students killed himself as federal forces closed in.
The alleged leader, Benjamin Mondragon, shot himself before authorities could apprehend him during the operation conducted in Morelos, government sources have confirmed to various media outlets in Mexico.
Authorities initially said they were looking for another of the gang's leaders, a man known as "Chucky," who had been asked by the municipal police to carry out the killing of the college students.
The Attorney General's Office told Fusion it could not provide any official information about the death of Mondragon.
Guerreros Unidos is one of the many splinter criminal cells that have resulted from the fracturing of Mexican cartels. Guillermo Trejo, a professor at the University Notre Dame and a Mexican security expert, says that since the military deployment under former President Felipe Calderon, the Mexican government has followed a strategy of "decapitation," which involves capturing or killing top leaders.
G/O Media may get a commission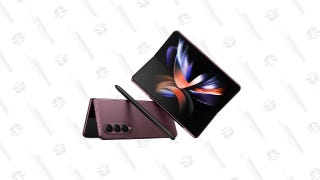 Save Up to $300
Galaxy Z Fold4
"In the 1990s cartels began contracting private militias, in turn these militias would subcontract street gangs," Trejo explains. When the government arrests capos, Trejo says, a "succession problem" arises and some of these private militias become independent. "This is how the Zetas, the Beltran-Leyva and Arellano Felix brothers became cartels in their own right." He claims that the current splinter cells that operate in Guerrero are a result of this "detachment that took place over several years." Trejo concludes that the objective of these smaller groups goes beyond drugs, as they seek to extend their control to municipal governments.
A leaked Attorney General's Office document published by the newspaper Excelsior shows the government is aware of  the nine major cartels which control 43 gangs. The government strategy does not appear to be quelling the violence and impunity. Furthermore, experts say it is indirectly resulting in the birth of mini-cartels that are harder to track, identify and dismantle.
Although the Guerreros Unidos gang is not featured in the document, it does signal that other four criminal cells operate in Guerrero, the state were the college students disappeared and a mayor, his wife and police chief have become fugitives.
The Guerreros Unidos gang used to be a faction of the Beltran-Leyva organization, whose leader Hector Beltran-Leyva was captured two weeks ago. Upon becoming autonomous, Guerreros Unidos allegedly engaged in a turf war with Los Rojos, another gang that is identified in the leaked document as operating in the states of Guerrero and Morelos and that also originates from the Beltran-Leyva cartel.
According to a report by Excelsior, Los Rojos and Guerreros Unidos have been battling for control of the municipality of Iguala for years.
"When there is cartel fragmentation, smaller cells break apart and these adapt their tactics of violence," says Javier Osorio, a professor at the John Jay College of Criminal Justice. "When the government breaks them apart, like in the Beltran-Leyva cartel case, the local militias lose the income of the international drug trade and distribution, thus they start to generate violence to make up for this lost revenue and get involved in extortion, kidnapping, etc."
Osorio says groups like Guerreros Unidos don't know much about large-scale drug trafficking so they inevitably turn to their violence know-how. "They get immersed in activities that give them a competitive edge and they know a lot about weapons, torture and killing indiscriminately."