Two days after assurances from the White House that President Trump would leave Obama's employment discrimination protections for LGBTQ people in place, a draft copy of an executive order targeting LGBTQ and women's rights has come to light.
The leaked draft order, obtained by The Nation and The Investigative Fund from an unnamed administration official, includes provisions for individuals and organizations to effectively discriminate against LGBTQ people and unmarried women.
Its scope is broad, allowing for discrimination in almost every aspect of life on the basis of religious or moral beliefs, from employment and education to housing and health care:

Persons and organizations do not forfeit their religious freedom when providing social services, education, or healthcare; earning a living, seeking a job, or employing others; receiving government grants or contracts: or otherwise participating in the marketplace, the public square, or interfacing with Federal, State or local governments.
The draft also makes covering abortion onerous for insurance providers–with phrasing that would require insurance companies to make sure that members who opt not to have abortions covered by their plan don't subsidize plans that do cover abortions:

(b) The Secretary of Health and Human Services shall take appropriate actions, through mechanisms to ensure compliance with existing statutory and other protections, if necessary, to ensure that any individuals purchasing health insurance in the individual market (whether through a federally facilitated exchange, a state-sponsored health insurance exchange, or otherwise) has the ability to purchase health insurance that does not provide coverage for abortion and does not subsidize plans that do provide such coverage.
G/O Media may get a commission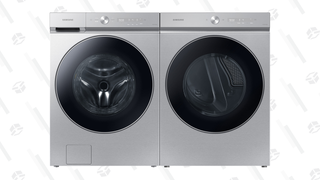 Get $500 back in credit
Last Chance: Samsung Bespoke AI Washer and Dryer Preorder
The draft explicitly outlines that discrimination is allowed against LGBTQ people and anyone perceived as having sex outside heterosexual marriage:

(2) on the basis that such person or organization believes, speaks, or acts (or declines to act) in accordance with the belief that marriage is or should be recognized as the union of one man and one woman, sexual relations are properly reserved for such a marriage, male and female and their equivalents refer to an individual's immutable biological sex as objectively determined by anatomy, physiology, or genetics at or before birth, and that human life begins at conception and merits protection at all stages of life.
The four-page document also calls for the Department of Justice to establish a division specifically tasked with protecting "religious freedom":

(l) The Attorney General shall establish with the Department of Justice a Section or working group that will ensure that the religious freedom of persons and religious organizations is protected throughout the United States, and shall investigate and, if necessary, take or coordinate appropriate action under applicable religious freedom laws.
The order, if Trump does sign it, would make legal challenges to discrimination more difficult and directs federal agencies to walk back any civil rights protections for LGBTQ people or unmarried women:

(a) All agencies shall promptly withdraw or rescind any rulings, directives, regulations, guidance, positions, or interpretations that are inconsistent with this order to the extent of their inconsistency.
After viewing the leaked draft on Wednesday, LGBTQ advocates were extremely concerned at the possibility that these measures could be signed into place by President Trump. Mara Keisling, Executive Director of the National Center for Transgender Equality, said the draft order is a mandate for discrimination against LGBTQ Americans.
"Make no mistake: this shameful, sweeping, and unconstitutional order would be about firing people and denying them health care and other government services simply because of who they are," said Keisling in a statement. "Taxpayer dollars should not come with a free pass to discriminate. If this draft order or anything remotely like it is issued, President Trump will have once again shown he stands on the side of discrimination, this time against the 10 million Americans who are lesbian, gay, bisexual, and transgender, including over 1.4 million transgender adults. This is our country too."
The head of the largest LGBTQ rights organization in the country, Chad Griffin of the Human Rights Campaign, told ABC in a statement, "It reads like a wish list from some of the most radical anti-equality activists. If true, it seems this White House is poised to wildly expand anti-LGBTQ discrimination across all facets of the government–even if he does maintain the Obama [executive order from 2014]."
When asked about rumors of the draft order on Monday, White House Press Secretary Sean Spicer offered a vague response, saying, "I'm not getting ahead of the executive orders that we may or may not issue. There's a lot of executive orders, a lot of things the president has talked about and will continue to fulfill but we have nothing on that front now."
On Tuesday night, the White House issued a statement to The New York Times about the draft, saying, "President Trump continues to be respectful and supportive of L.G.B.T.Q. rights, just as he was throughout the election," a White House spokesperson said. "The president is proud to have been the first ever G.O.P. nominee to mention the L.G.B.T.Q. community in his nomination acceptance speech, pledging then to protect the community from violence and oppression."
The White House again denied this morning that the president plans to sign an executive order related to "religious freedom."
"We have no plans to take any action on this topic at this time," deputy press secretary Sarah Huckabee Sanders told Buzzfeed.
Advocates had already expected that Republicans in Congress will re-introduce a First Amendment Defense Act this year under Trump, who has said he would support the bill. That legislation would effectively rescind the protections offered by Obama's 2014 order.