What do Nick Lachey, Nanette Lepore, and William Howard Taft's great-great-grandnephews all have in common? They all stand to become much wealthier celebrities if Ohioans decide to legalize marijuana this week.
Most people remember Nick Lachey for his stint with 98 Degrees, his one-time marriage to (and reality TV show with) Jessica Simpson, and the couple's subsequent divorce. What many folks don't know, though, is that in the time since he's been squarely in the public spotlight, he's become one of the biggest political supporters (and funders) of ResponsibleOhio, an organization working to legalize pot in Ohio.
On Tuesday, Ohioans will cast their votes to decide whether marijuana should be legal to sell throughout the state for recreational use. Unlike similar measures in other states, the law in Ohio would not only decriminalize weed, it would also drastically reduce the number of farms that can legally grow the crop to about ten.
The 20 or so owners of those ten farms each reportedly invested $4 million each to support ResponsibleOhio's campaign leading up to tomorrow's vote. According to The Washington Post, each donor is thought to have also spent about $10 million in order to establish their farms throughout the state.
Lachey, for example, went in on 29 acres of land near Akron that would automatically become one of the sole places any store looking to sell pot-based products would have to buy their ingredients from.
Though a majority "yes" vote would mean that people living in the Buckeye State could light up to their hearts' content, there are those who aren't too keen on Lachey et al. becoming Ohio's only growers.
G/O Media may get a commission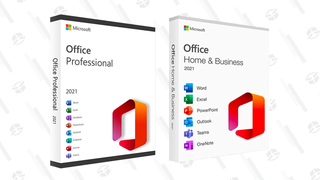 89% off
Microsoft Office Professional 2021 Lifetime License
In an interview with The Washington Post, Drug Policy Alliance executive director Ethan Nadelmann, described the farm-owning group as a "constitutionally mandated oligopoly."
According to ResponsibleOhio, individuals would sill be able to grow their own pot for private consumption under the new law, but those opposing it feel as if the organization's emphasis on job creation and tax revenue is undercut by the limitations on large-scale farming. Lachey, who's declined to speak directly on the matter, has issued a public statement through his press people.
"Ohio is my home, and as a resident and local business owner I am proud to be part of a movement that has the potential to create jobs, reinvigorate the local economy and improve the safety of our communities," Lachey explained. "Passage of this proposal will result in much-needed economic development opportunities across Ohio, and update the state's position on marijuana in a smart and safe way."