Remember Fabio? Fabio Lanzoni? No? But you are aware of him, right? He's the golden haired Italian stallion who redefined romance novel cover art, and yes, the one-time recipient of a Slashie Award (for "best actor-slash-model, and not the other way around").
Okay, so you may not really remember the man, save a few foggy memories of I Can't Believe It's Not Butter commercials. But one needs no prior knowledge of Fabio to appreciate what is possibly our greatest national treasure: Fabio Fitness, an hour-long exercise tape in which the blond hunk and his lady friend Brenda show you how to get fit for Fabio.
I first discovered Fabio Fitness while perusing a 1995 issue of Seventeen magazine (because, work), which featured a very short blurb on Fabio's book by the same name (even then, the magazine called out the book for being cheesy and for "moms"). When I searched for it—because obviously I had to get my hands on it—I was delighted to find that there was a Fabio Fitness video as well.
In a world where personal trainers are celebrities themselves, the idea of a fitness tape hosted by someone famous for something else feels a little outdated. But back in 1993 when the tape was released, Fabio was simply taking his place in the pantheon of fitness-inspiring stars including the likes of Cher, Marky Mark (not Mark Wahlberg), Paula Abdul, and Latoya Jackson.
G/O Media may get a commission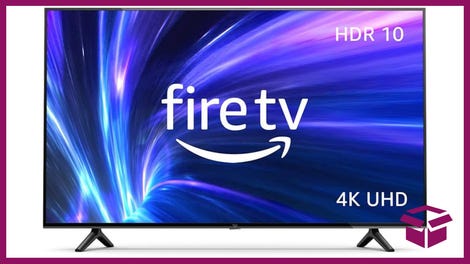 42% Off
Amazon Fire TV 50" 4K Smart TV
Alas, today, that brand of celeb-driven health inspiration has been replaced by Gwyneth's juice cleanses, Blake Lively's "crudites with roasted garlic and herb dip," and Bey's vegan home delivery thing. So let's take a hot sec (I'm talkin' real hot) to pay homage to the awkwardness that was the ultimate celebrity exercise tape: Fabio Fitness.
First a warm up. Just roll those shoulders, ladies. Advanced technique: Sensually flick your hair out of your face while rolling.
And don't forget to stretch out that booty.
This Brenda lady may be guiding the workout, but she can't help being completely taken with the embodiment of hunky perfection that is Fabio.
Apparently the camera operator can't help himself (or herself), either.
BUT GUYS, JUST LOOK AT THESE GUNS. THEY DON'T QUIT. UNTIL THE SCOREBOARD'S LIT.
Had enough of the bicep? Just zoom out a little and catch a little eye contact with the stallion himself—then quickly avert your eyes before realizing that dammit, Isha, this is just a video.
And finally, some awkward upside down pelvic thrusts with your feet in the air. With Fabio. 
I'd just like to point out that throughout the hour "Brenda" repeatedly uses some variation of the phrase "Fabio's really gonna work us, ladies," which is both unnecessary and uncomfortable. But who cares about Brenda? The only thing that matters in this world is Fabulous Fabio. I mean, look at that penetrating gaze.