This was inevitable, really. Freshman Michigan Rep. Rashida Tlaib, who's for days been scolded for calling President Donald Trump a "motherfucker" in her call to impeach him late last week, told Michigan press on Tuesday that she was sorry to have created a distraction, but wouldn't apologize for the sentiment.
"The use of that language was a teachable moment for me," Tliab said at an appearance in her district, the Washington Post reported. "I understand I am a member of Congress. And I don't want anything that I do or say to distract us. That is the only thing I apologize for, is that it was a distraction."
When a reporter asked if she was apologizing specifically for calling Trump a "motherfucker," she responded: "I want you to know that I will never apologize for being me, and for being passionate and upset. Period."
"I have a right to be this passionate, this upset. I am a woman of color," Tlaib, who became the first Palestinian American woman to be a member of Congress, continued, according to the Post. "People like us never run for office, and when we do, this is who we are. We are as angry and as upset as everybody else."
Tlaib was always going to have to answer for calling Trump a motherfucker, either in terms of a formal apology or some other form of political retribution. But she shouldn't be asked to apologize, even for the perceived "distraction." The controversy over her comment was a slew of manufactured outrage posed by conservatives and liberals alike who plead for decorum and civility above all else. Still others managed to attack Tlaib while also standing by a president known for such policies as locking children up in cages and for calling people—often people of color—names like "son of a bitch," "dog," (after being accused of using the n-word) and disses like "extraordinarily low IQ person."
G/O Media may get a commission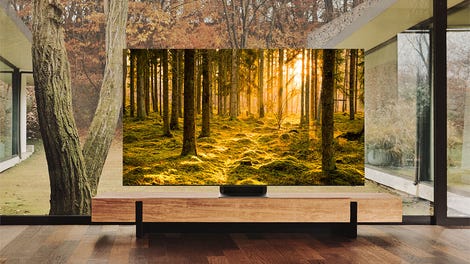 Up to 40% off
Samsung Smart TVs
What Tlaib did was help illustrate just how hypocritical (and sexist and racist) the GOP continues to be when it comes to the president they tsk-tsk one moment and fall in line behind the next. Tlaib kicked a line in the sand, and if she can continue to stand up to the whims of the respectability police in Washington, no correctly named motherfucker can draw it for her.
Let Tlaib say "motherfucker," you cowards. She's clearly the only one (for now) who will.