House hunting is such a pain! (I am reliably told this by people who make enough money to know.) Beleaguered martyrs Ivanka Trump and Jared Kushner are about to experience this struggle first hand when they finally buy a house in Washington, D.C.
The couple currently rents a big-ass $15,000-a-month house in Kalorama, one of the poshest neighborhoods in the city, but the downside is that their neighbors kind of hate them, including one legendary rich lady who stood in her front yard in a fur coat, drinking wine and watching protesters dancing and "twerking on top of an SUV" in front of the Trump-Kushner home not long after the inauguration.
To help these plucky kids find a new home, I took to the streets of the trendy 14th Street Corridor in D.C., even though The Washington Post reports the couple are more interested in the Massachusetts Avenue Heights neighborhood, which is not a real neighborhood. I've never heard that name before today and I've lived here five years—boring much? 14th Street is way cooler: It's got the hip restaurant and bar scene, a Trader Joe's, like four ice cream places, and a good McDonald's.
In just one hour trudging the snowy streets, I found tons of good options for Javanka. Come on in and take a look!
Secluded Charm Off R Street
This beautiful unit sits right behind Sette Osteria on 14th Street and boasts easy access to Bodysmith Gym. The unknown pool of dark, possibly cursed sludge on the ground will make you feel right at home with minimal remodeling.
G/O Media may get a commission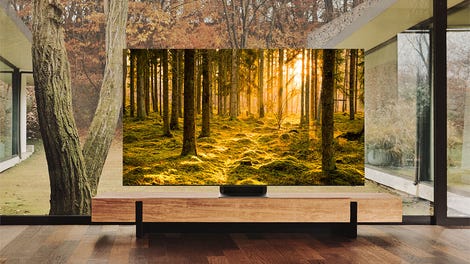 Up to 40% off
Samsung Smart TVs
Brand-Name Appeal
This stunning unit—right behind the corner of 14th and U—is spacious and secure. Another bonus: the unique branding means your neighbors could call you "Subway Jared," and it's fun to have a nickname.
Luxury Living
Jared is a stylish wee scamp if nothing else, so this prime-yet-private location behind 14th's J.Crew Men is an ideal spot for him.
Living Large In Micro-Units
Even the happiest married couple needs some time apart. These identical micro-units will allow Jared and Ivanka their own space to decompress from the stresses of advising President Daddy.
Compatible Neighbors
Unlike their nasty experience with their Kalorama neighbors, this multi-occupant unit houses many similar residents that might make the young couple feel like they finally fit in.

Hip Cred
This unit is right on U Street, the heart of the District's nightlife. Nothing wrong with that!
A Secure Community
This gated community is perfect for those who prefer a quiet life, or those who may have to prepare themselves for the possibility that a portion of their life will be lived in a less expansive and more incarcerated environment.
Urban Concepts
Another hip choice for the young socialites, these vacant units boast unique art installations and "street cred."
Le Dumpstermate
Jared and Ivanka have been known to visit the wildly popular and infuriatingly good French restaurant Le Diplomate, and lucky for them, there's a great spot open right behind it. With actual walls and doors, this trash spot could soon be le maison trash pour vous.
And if those accomodations don't suit you, there are several other units available right in front.