Evangelical support of Donald Trump has consistently been one of the more ideologically hypocritical elements of the president's base. Nothing exemplified this more than Trump's mutually beneficial partnership with Liberty University President Jerry Falwell Jr., who helped get Trump elected by rallying his evangelical base. This was no small feat, as it required conning so–called Christians into overlooking the behavior of a man who treats cardinal sins like a to–do list.
Trump is again leaning on Falwell for help as his administration falls apart. The head of the evangelical university, located in Lynchburg, VA, was one of only a few people who publicly defended Trump after he sided with neo–Nazis at a Trump Tower press conference last Tuesday, following the Charlottesville violence.

Falwell tried to justify his comments on Sunday in an appearance on ABC's This Week, where he brushed off a question about whether he believed there were "very fine people" among the white supremacists in Charlottesville by saying the president has access to information that Falwell doesn't. (This is hard to believe, considering that Falwell has a Twitter account and likely a TV remote control.)
"One of the reasons I supported him is because he doesn't say what's politically correct, he says what's in his heart, what he believes. And sometimes that gets him in trouble," Falwell said. High standards there, Jerry.

G/O Media may get a commission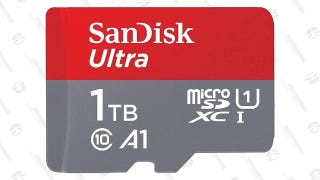 Save $75
SanDisk Ultra 1TB MicroSDXC Card

Some Liberty alumni finally have had enough. NPR reported on Sunday that a "small but growing number of Liberty University graduates" have promised to return their diplomas because of Trump's comments and his overt racism, which includes defending Confederate monuments and refusing to promptly denounce white extremist terrorism on U.S. soil.

"I'm sending my diploma back because the president of the United States is defending Nazis and white supremacists," Liberty graduate Chris Gaumer, who is a former Student Government Association president at the university, told NPR. "And in defending the president's comments, Jerry Falwell Jr. is making himself and, it seems to me, the university he represents, complicit."

There's that word—complicit. That's how Jesus died.

A letter that former students are preparing to send to university officials says that Falwell's defense of Trump this week has "brought our outrage and our sorrow to a boiling point," and that his praising of the president's "very fine people" comment was "incompatible with a Christian witness."

One alumna even told NPR that she was scared to put her alma mater on a résumé because of Trump's association with Falwell and Liberty University. I wonder if she'd be able to get her money back.