Early this morning, Lilly Wachowski, one half of the directing duo behind The Matrix, Cloud Atlas, and Speed Racer, shared a simple tweet affirming her identity as a transgender woman.
Hours before, Wachowski published an frank essay in the Windy City Times explaining that her decision to come out was largely influenced by being blackmailed by a reporter from The Daily Mail who threatened to out her if she didn't give the tabloid an exclusive interview.
"After he had given me his card, and I closed the door it began to dawn on me where I had heard of the Daily Mail," Wachowski explained. "It was the 'news' organization that had played a huge part in the national public outing of Lucy Meadows, an elementary school teacher and trans woman in the UK."
Wachowski continued:

An editorial in the "not-a-tabloid" demonized her as a damaging influence on the children's delicate innocence and summarized "he's not only trapped in the wrong body, he's in the wrong job." The reason I knew about her wasn't because she was transgender it was because three months after the Daily Mail article came out, Lucy committed suicide.
G/O Media may get a commission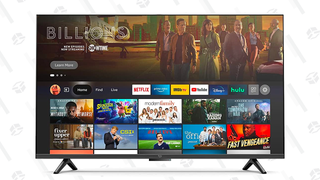 22% off
Amazon Fire TV - 50" Omni Series 4K - Early Access Deal
The Daily Mail was quick to deny Wachowski's allegations, releasing a statement through its digital platform (which is separate from its tabloid-cum-newspaper) saying that the publication was shocked at Lilly's decision to call them out.
"As Ms. Wachowski herself says, we were not the first media organization to approach her," the paper responded. "[W]e made absolutely clear at several points in the conversation that we were only interested in reporting the story if and when she was happy for us to do so and with her cooperation."
Lucy Meadows, the woman Wachowski mentioned in her essay, was, in fact, very publicly outed in a transphobic article written by Daily Mail columnist Richard Littlejohn in 2012 arguing that her decision to transition made her unfit to be a teacher.
Months after the article was published, Meadows killed herself, leaving a suicide note behind. While the note did not explicitly name the Daily Mail or claim that it played a role in her death, Michael Singleton, the coroner who oversaw her autopsy slammed the media as a whole for its "sensationalist and salacious" coverage of her transition.
"I say shame, shame on all of you," Singleton said at the time.
Four years ago, Lilly older sister Lana also came out as transgender, news that re-stoked the media's interest in the famously media-shy siblings and played a key role in the recent growth of trans-visibility in Hollywood. Since then the sisters have gone on to helm projects like the remarkably progressive, queer-positive Netflix series Sense8.
Wachowski closed out her essay looking back at all of the strides made by the trans community in terms of broader and more nuanced media representation. But she made a point of stating that her transitioning, like that of so many others, was an ongoing process transcending the gender binary.
"The reality, my reality is that I've been transitioning and will continue to transition all of my life, through the infinite that exists between male and female as it does in the infinite between the binary of zero and one," she said. "We need to elevate the dialogue beyond the simplicity of binary. Binary is a false idol."