A legal battle as old as time itself (two years old) lurches onward: Lindsay Lohan against the makers of Grand Theft Auto V.
Judge Joan M. Kenney, of New York State's Supreme Court, dismissed a motion filed by Take-Two Interactive, the publisher which owns Rockstar Games, the developer behind the Grand Theft Auto series. The motion, dismissed March 11, was filed more than a year ago, and Kenney's decision marks some forward movement on the idling suit, which Lohan originally brought in the summer of 2014.
Specifically, Lohan is suing Take-Two for allegedly basing the Grand Theft Auto V character Lacey Jonas—an actress that players help escape from paparazzi—on her. Back in 2014, Take-Two took aggressive action to have the suit dismissed, and to have Lohan sanctioned for filing what it called a suit "so legally meritless that it lacks any good-faith basis."
Kenney ruled that the documents Take-Two submitted "to assert that the images in question are not those of the plaintiff" are "vehemently and factually contested by the plaintiff." She goes on to say that that means the "factual disputes require a determination by the trier of facts." So, for now, Take-Two is out of luck for a dismissal by the judge and for sanctions against Lohan. The decision also orders that Take-Two respond within 30 days, and schedules a "preliminary conference" on May 26.
G/O Media may get a commission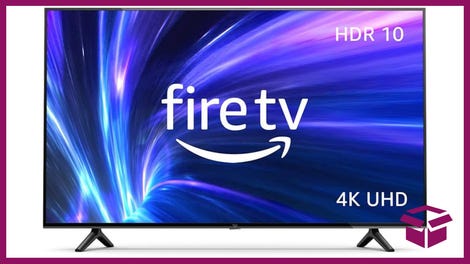 42% Off
Amazon Fire TV 50" 4K Smart TV
The ruling also answers a question that has haunted America for several years now—who matters more to Americans: Lindsay Lohan or former Panamanian dictator Manuel Noriega (we all knew the answer to that already, though). Noriega (who is in jail in Panama for various crimes committed during his rule) filed a suit similar to Lohan's against Activision Blizzard, the makers of the Call of Duty series, over a character in Call of Duty: Black Ops II whom he says was based on him. That suit, filed in a Los Angeles court, was thrown out in 2014.
When Noriega sued Activision Blizzard, the company said that if successful, the suit could have First Amendment implications, and the same is likely true here. However, since it's yet to even reach a preliminary meeting, we may want to hold off on speculating about the constitutional implications.
I've asked Take Two for comment, and I'll update this post if they get back to me.
Ethan Chiel is a reporter for Fusion, writing mostly about the internet and technology. You can (and should) email him at ethan.chiel@fusion.net