Oil is scheduled to begin flowing through the Dakota Access Pipeline today. Some might think June 1 marks a final nail in the coffin of the anti-Dakota Access movement that began on the Standing Rock Sioux reservation in 2016 and spread around the world. But the global, indigenous-led movement to protect water and land is just getting started.
In January, President Trump revived TransCanada's infamous Keystone XL Pipeline that the Cowboy Indian Alliance of Native communities, landowners, and environmentalists defeated during the Obama administration. As a showdown brews between TransCanada and Nebraska landowners over the fate of Keystone XL, to the east, Native communities are preparing to take a stand against the lesser known Line 3 Pipeline in Minnesota.
Line 3 would replace, reroute, and increase capacity for an existing pipeline, which runs over 1,000 miles from the Canadian tar sands in Hardisty, Alberta, to Superior, Wisconsin. If completed, Line 3 would be the largest project in Enbridge Energy Partners' history, costing an estimated $7.5 billion—significantly more than Dakota Access. The pipeline could carry up to 760,000 barrels per day, or roughly 32 million gallons—a greater volume of oil than both Dakota Access and Keystone XL.
Canadian Prime Minister Justin Trudeau approved the Canadian portion of the project not long after the election of Donald Trump. In the United States, the Minnesota Department of Commerce is reviewing Line 3 to decide whether the project will move forward and, if so, what route it will take.
The department released an impact statement on May 15. It does not recommend Enbridge's preferred route or any of the four alternatives also reviewed. All five options cross some of the highest quality water sources in Minnesota's Mississippi headwaters and lakes regions and threaten important lake and wetland ecosystems.
G/O Media may get a commission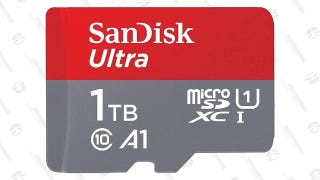 Save $70
SanDisk Ultra 1TB MicroSDXC Card
Ojibwe communities, who live on six different reservations near or on the pipeline corridor, retain treaty rights to hunt, fish, and gather in the area. The tribes and the Minnesota Department of Commerce say the pipeline could violate these rights. The impact statement found that all proposed routes would have a "disproportionate and adverse impact" on these communities.
A coalition of indigenous peoples, landowners, and environmentalists, has mobilized to stop the pipeline. They are concerned that Enbridge will abandon the old Line 3 pipe without responsibly decommissioning it. They also argue that the new proposed pipeline corridor threatens water, ecosystems, landowners, and Native communities.
On May 11, a group of Native American and First Nations Canadian activists rallied together at Enbridge's annual shareholder meeting in Calgary to pressure the energy company to stop Line 3. In the coming months, a tipi from the Sacred Stone camp that stood in the path of Dakota Access will be erected on Madeline Island, Wisconsin, a spiritual center of Ojibwe culture, in solidarity with the Ojibwe people's fight against this new pipeline threat.
Through advocacy, the law, and direct action, past indigenous-led coalitions have succeeded at rebuffing similar projects in Minnesota, such as Enbridge's Sandpiper pipeline. After Sandpiper was defeated in August 2016, Enbridge bought a 28% share in Dakota Access to recover some of the lost investment. Now that President Trump has loosened the reigns on the fossil fuel industry, Enbridge is back in Minnesota for round two.
This time, the Stop Line 3 movement faces an uphill battle not just against President Trump, but also against the global oil market dominated by the Organization of the Petroleum Exporting Countries (OPEC). Last week, OPEC members met in Vienna and voted to extend oil supply cuts for nine months. The decision is expected to decrease the supply and increase the price of oil. If prices remain above $40/barrel, North American fracked oil, which costs more to produce and transport to market, can become profitable, attractive for investors, and competitive with OPEC producers once again.
With Trump in the White House, some are predicting a second shale oil boom. Others such as Mark Carney, a Canadian economist and the current governor of the Bank of England, have warned that there may not be enough oil in the tar sands and Bakken oil fields to support the number of projects being developed. Carney and others suggest that these pipelines may not just be bad polluters—they might also become worthless hunks of steel.
To stand athwart Sandpiper and other pipelines across North America, indigenous and environmental activists previously relied on a squeeze play: Their resistance inhibited domestic development, making it more costly and difficult for fossil fuel developers to build pipelines, while the OPEC-dominated oil market kept the price of oil low, making American and Canadian competitors unprofitable. This time, unless investors are sufficiently spooked by Carney and others' warnings and convinced by growing divestment campaigns, it appears water protectors will face an uphill battle against Trump and oil speculation.
Nonetheless, they remain convinced that with public support they can carry the day.
"I'm going to stick to our plan. I'm going to stay low to the ground, and we are going to build an economy that makes sense," says Winona LaDuke, a White Earth tribal member and Executive Director of Honor the Earth, an indigenous environmental organization holding the line against Line 3.
"I don't think Donald Trump makes any sense."