Let's go back in time to Thursday afternoon. Zip, zip, zoom! Okay, here we are—it's Thursday afternoon and Marco Rubio is a "no" on the Republican tax plan:

The announcement that the Florida Republican might withhold his vote in order to extract a concession over the expanded Child Tax Credit "sent shock waves through Washington," according to The Washington Post.
"People are really infuriated by it," Steve Moore, a top economic adviser to President Trump during the campaign, told the paper.
They were not infuriated for long. Let's now return to our present moment of Friday afternoon. Zip, zip, zoom! Okay, here we are—it's Friday afternoon and Marco Rubio is a "yes" on the Republican tax plan:
G/O Media may get a commission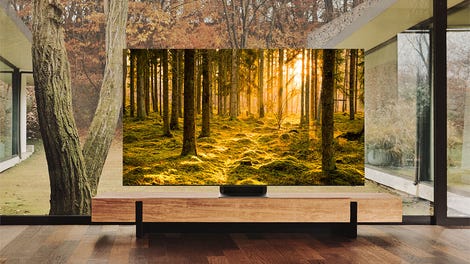 Up to 40% off
Samsung Smart TVs
What changed in the bill so that it now helps "working families who always seem to be forgotten" in a way that it did not just 24 hours ago? Very little, according to an early report from The Wall Street Journal:
Lawmakers agreed to make more of the child tax credit refundable, which refers to the amount of money taxpayers get back from the government even if they pay no income tax. Such filers would now be able to get $1,400 of the $2,000-per-child credit, said Rep. Kristi Noem (R., S.D.), one of the members of the House-Senate negotiating committee. That is up from $1,100 in the version that passed the Senate.

The agreement doesn't make one change that Mr. Rubio had wanted: that the credit be refundable from the first dollar earned, which would make it more generous for very-low-income households. The Senate bill starts making the credit refundable against household income above $2,500.
Because the income threshold did not change, and because the credit is already designed in a way that leaves behind many low-income households, the poorest families are still going to see virtually no benefit, as noted by Jacob Leibenluft, a senior adviser with the Center on Budget and Policy Priorities:
But what is Rubio saying about the change?

Little Marco.