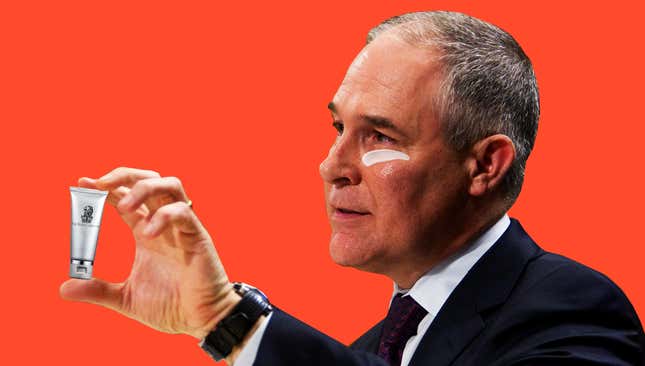 Scott Pruitt has probably given us the most bang for our buck as far as the institutional corruption of the Trump administration goes. His vast array of jaw-dropping, erratic, and just plain weird uses of public time and money is in a class of its own. Earlier this week, news surfaced that Pruitt had an aide track down a used mattress from a Trump hotel for purchase. Now, it appears he's sending his own security detail on other very important missions including...finding his favorite fancy lotion?
The Washington Post interviewed two anonymous insiders who detailed the kind of orders that the Environmental Protection Agency administrator and master scammer has been giving to the people meant to protect him (emphasis mine):
While EPA security agents are required to protect Pruitt at all times — both while he is working and during his off hours — the two individuals said the administrator had asked members of the detail to perform tasks that go beyond their primary function. In one instance, they said, he directed agents to drive him to multiple locations in search of a particular lotion on offer at Ritz-Carlton hotels.

One other occasions, they added, he asked agents to pick up his dry cleaning without him.
LOTION!! LOTION!!
Earlier this week it was a USED mattress. Before that it was Chick-fil-A. And now it's lotion. (Perhaps Pruitt loves the house blend Ritz-Carlton Moisturizer with "top notes of jasmine, bergamot and ylang-ylang"?)
An EPA spokeswoman told the Post, "Administrator Pruitt follows the same security protocol whether he's in his personal or official capacity." Hmm. OK.
This man is ridiculous and clearly has terrible taste in his ultra-corrupt, ultra-deluxe endeavors. What's next, security giving him foot massages? Official EPA sous-vides? Is he going to have his aides kidnap just over 100 Dalmatians and make fur coats out of them? Jesus.