Arizona Republican Senator Jeff Flake, perhaps Donald Trump's hollowest critic, gave a rousing speech on Thursday strongly criticizing Trump's botched Helsinki summit with Vladimir Putin as "Orwellian"—right before one of his own party leaders snuffed out yet another of Flake's feeble attempts to "oppose" the president.
"Well, we saw earlier this week in Helsinki what was truly an Orwellian moment," Flake said in his speech, adding yet another tally mark to the most overused dystopian reference of the last two years.

The retiring senator, who's styled himself as a lighthouse of the good old Republican party of yore by positioning himself against Trump, took the 1984 thing even further.
"I will say that if ever there was a moment to think not of your party but of your country, this is it. This is a not a moment for spin, deflection, justification, circling the wagons, forgetting, moving along to the next news cycle or for more of Orwell's doublespeak," he continued. "We in the Senate who have been elected to represent our constituents cannot be enablers of falsehoods."
We get it, you read!!
Flake's big solution to this problem? A typically vacuous non-binding resolution sponsored by himself and Democratic Senator Chris Coons that was basically a vote of confidence in the intelligence community's conclusion that Russia did meddle with the 2016 presidential election. Trump has spent all week saying he doesn't believe Russia did anything wrong, then saying he misspoke, and then muddying the waters still further.
G/O Media may get a commission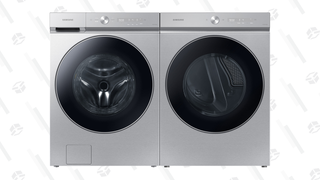 Get $500 back in credit
Last Chance: Samsung Bespoke AI Washer and Dryer Preorder
But he didn't even get that far. John Cornyn, the number two Republican in the Senate, blocked the vote from taking place, thus handing Flake another defeat.
Ultimately, Senate Republicans couldn't even manage a "symbolic rebuke"— which would have been full of Flake's meaningless bluster—of their president. But don't worry, you best believe that the phone lines of Beltway reporters are lighting up again this afternoon with Republicans champing at the bit to say how upset they are with all these developments—not that it will change a thing.