Hell hath no fury like the parents of a son expelled from college for allegedly violating federal anti-sex discrimination laws.
One father, a Missouri lobbyist with money to burn, has gone so far as to try and change Title IX, the federal law under which campus sexual violence is investigated, through the state legislative process. It also just so happens, according to the Kansas City Star, that his son was expelled from Washington University in St. Louis last year, through the university's Title IX process.
Richard McIntosh's son was "accused and subsequently expelled," though the Star doesn't specify what McIntosh's son was accused and found guilty of during the Title IX proceedings. (McIntosh referred the Star's questions about his son's expulsion to his lawyer, who then declined to comment.) And twice so far, McIntosh has asked lawmakers to take up his proposals as legislation, arguing that Title IX unfairly treats the accused.
In 2018, McIntosh first proposed an amendment to Republican state Rep. Shamed Dogan that would have allowed the accused to appeal their Title IX hearing result to the state Administrative Hearing Commission. And what a coincidence, McIntosh also has a stake in that department, too—his wife Audrey Hanson McIntosh, his son's mother, is the presiding and managing commissioner of the commission. The amendment itself was ultimately cut out of the bill.
In his second attempt, McIntosh asked his friend Republican state Rep. Dean Dohrman to sponsor an entire bill which would not only allow those punished under Title IX to appeal it to the aforementioned commission, but also allowed those accused to sue the schools or even the accusers themselves, which the Star notes would have enabled lawyers "to cross-examine sexual assault survivors about their drinking habits or sexual history."

G/O Media may get a commission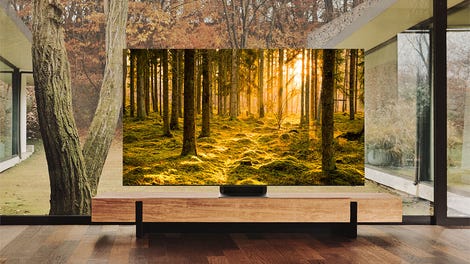 Up to 40% off
Samsung Smart TVs
That bill is currently making its way through the state House, but the provisions allowing for lawsuits and cross-examining have since been removed, the Star reports.
As egregious as all of this is—a powerful lobbyist using his political connections to avenge his kid for some perceived wrongdoing against him—McIntosh's crusade has a powerful ally in the federal government. In 2017, Education Secretary Betsy DeVos announced that the Trump administration would be retooling Title IX requirements regarding campus sexual assault to better defend the "lives of the accused." In November, DeVos unveiled her Title IX proposals, among them allowing a survivor to be cross-examined during a hearing, and only finding schools in violation of Title IX if they are "deliberately indifferent" to an allegation of sexual misconduct that they know of. As of February, the department was reviewing public comments, according to the Harvard Crimson.
At the heart of these proposals to better protect the accused, however, isn't an agenda to actually protect the accused. It's an agenda to further discount survivors, by establishing an environment of hostility around them during and after the reporting, hearing, and sentencing processes. It's an environment that scares away survivors and threatens them with the greater possibility that they won't be believed, that they'll have to face their attacker, that they'll have to relive their trauma—immense barriers to reporting that survivors already face as it is, even with Title IX protections.
Factually, the number of false reports of sexual assault are extremely low, as are the number of sexual assaults that actually go reported. Alas, to people like McIntosh, it is their sons who are victims of the system—and if his actions influence survivors' decisions to not come forward in the future, then so be it.