Housed in Philadelphia is The Mutter Museum, significant because it's one of the world's only "anatomical museums." Both Fox Connecticut and the New Haven Register published pieces today on one of the more curious items on its way to the Mutter Museum's collection: a 200-year-old mummified baby. It's making a quick stop at Quinnipiac University in Hamden, Conn.,  before heading over to the museum.
Let's all learn a bit about this very old baby mummy together, via the Register:

Partially dissected and mummified, probably with a mixture of salt and sugar, the infant, as well as a woman's arm, also mummified, were used to teach anatomy to medical students and were stored in a molasses barrel at a doctor's home in Seattle. They were discovered in the barrel in Quebec about 1850, according to information from the doctor's family.

"It's about 150 to 200 years old," said professor Jaime Ullinger, co-director of the Bioanthropology Research Institute at Quinnipiac University. "It was prepared likely by a physician. It's a very good dissection."
The merits of the dissection are further praised by Gerald Conlogue, a director of the Quinnipiac Institute and friend of the Mutter Museum, who told the Register that "very, very skilled people did these dissections."
One student studying the baby mummy noted the dehydrated nature of the mummy:

"The fact that the mummy is dehydrated — that's all good with us," said Victoria Ferrante of East Rockaway, New York, a senior. "We needed to see bone … to see the skeletal age of the mummy."
G/O Media may get a commission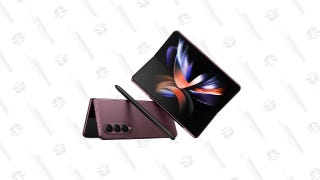 Save Up to $300
Galaxy Z Fold4
It's all good with me, too.
Michael Rosen is a reporter for Fusion based out of Oakland.