In a shocking turnaround from the usual spinelessness of Democratic leaders in Congress, the Hill reported today that Senate Minority Leader Chuck Schumer will not sign off on a package of judicial nominees put forward by the Trump administration before the holiday recess.
According to the site, which cited an unnamed "Senate Democratic aide," as its source:
Senate Democratic Leader Charles Schumer (N.Y.), under pressure from groups on the left, will not agree to a customary year-end package of judicial nominees, according to a Senate Democratic aide.

Schumer and his Democratic colleagues are in no mood to agree to a year-end deal after a federal judge in Texas struck down the entire Affordable Care Act last week, including protections for people with pre-existing conditions.

While Schumer hasn't definitively confirmed that report, he told reporters at a weekly press conference: "Our job right now is to get the government funded without a wall. We have had no discussion about judges. None."
The Hill points out that the last couple times Democrats rolled right over and let Republicans nominate whoever the fuck they wanted to courts around the country, Schumer got "skewered" by progressives. He sure did!

G/O Media may get a commission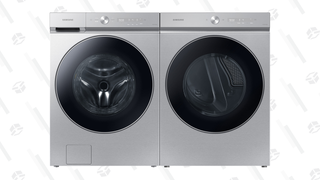 Get $500 back in credit
Last Chance: Samsung Bespoke AI Washer and Dryer Preorder
Schumer's justification in August and October was that he wanted to let vulnerable Democratic Senators like Claire McCaskill (didn't work), Joe Donnelley (didn't work), and Joe Manchin (did work but he still sucks) go home and campaign for the midterms. The Republicans, of course, took this gift and ran with it.
As my colleague Libby Watson put it then, this was stupid and didn't even need to happen:
Here is my proposal: What if, instead of fretting about keeping red state Democratic senators in town to vote on Trump judges, Chuck Schumer just... didn't do that, and let them miss the votes? Let them go free. Send 'em home. Meanwhile, you slow down the process and refuse to negotiate on a package of judges. Make McConnell put them all up individually.

Brian Fallon, the executive director of Demand Justice and a former Schumer staffer, told Splinter he essentially had the same idea: "The easy solution here is that the red state Democrats skip town to go home and campaign if they want, but the rest of the caucus keeps the Senate in session to slow down Trump's judges. Let Chris Van Hollen and Mark Warner hold down the fort in DC while Joe Donnelly stumps in Indiana."

Still a good idea! And somewhere along the line (perhaps because the midterms are over now) Schumer appears to have gotten the message. Better late than never, I guess.