Pick and choose is the new protect and serve.
A sheriff in the New Orleans suburb of Jefferson Parish said Tuesday that some of his officers are refusing to provide security for Bonnabel High School football games after the majority of the team of the players knelt during the national anthem last weekend in the style of San Francisco 49ers quarterback Colin Kaepernick.
In an interview with local TV station Fox 8, Sheriff Newell Normand said some deputies had backed out of the volunteer duty following the football team's demonstration, and that he supported their decision.
"I understand why, in light of Colin Kaepernick's comments, specifically when he says, 'Cops are getting paid leave for killing people.' That's not right, that's not right by anyone's standards," Normand told Fox 8. "The fact of the matter is we risk our lives each and every day for the safety and security of our constituency throughout this country."
Normand made it clear that there still were deputies volunteering to work the detail, but that he wouldn't force officers upset at the political views of teenagers to do so.
The deputies are part of a recent trend. Police all over the country have either been boycotting or threatening to pull security from events due to political disagreements. Officers in Miami, for instance, called for a boycott of Miami Dolphins games after players on that team protested during the anthem. Police in California threatened to yank their protection of 49ers games after Kaepernick launched his protest. Even Beyoncé concerts have become sites of ideological battle.
G/O Media may get a commission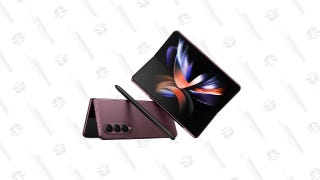 Save Up to $300
Galaxy Z Fold4
Outside the Fox-8 story, there's not a lot of information on the deputies' decision to abstain from the security detail other than the sheriff's comments. The most recent post on the department's Facebook page is a  600 word essay on the department's K-9 officers with the headline "JPSO K-9 DOGS ARE OUTSTANDING PERFORMERS." The essay does not indicate whether or not the K-9 officers are among the deputies who are not volunteering to provide security.