Mike Yenni, a conservative Republican who is president of Jefferson Parish, just outside of New Orleans, admitted in an interview this week that he sexted with a 17-year-old boy and bought him underwear. He repeatedly plead innocence when pushed about the boy's age and how appropriate it is for a 38-year-old anti-gay conservative politician to be pursuing any kind of sexual relationship with a teenager.
FOX 8 WVUE New Orleans News, Weather, Sports, Social
WVUE reporter Lee Zurik pressed Yenni on many elements of the story, which originated as an anonymized post made by a local college student was shared on social media. Per WVUE:

YENNI: That is a story that was written for a tabloid.  And there are a lot of elements of that story that I truly believe are certainly fictional.  It was written for a prize, a monetary prize, to get the most 'likes'. One of the examples that they cited from the previous winner was… it could have fictional parts, and you could certainly put those types of things into it. You wanted to be as salacious as possible. So, I mean, my message on that is, that was a story written for a monetary purpose.

[snip]
ZURIK: BUT LIKE… THERE'S GOT TO BE SOME BIG THEME. LIKE, IF YOU WANT TO BE HONEST WITH PEOPLE AND TELL PEOPLE WHAT REALLY HAPPENED, THEN… YOU KNOW, THIS HAS CIRCULATED ON FACEBOOK, WHEREVER. SO, FOR PEOPLE TO KNOW THE TRUTH AND TO KNOW, YOU KNOW, HOW TO JUDGE YOU, HOW TO EVALUATE YOU, SHOULDN'T THEY KNOW WHAT'S THE FICTIONAL PART AND WHAT IS NOT?

YENNI: And again, to go line by line so that a reporter from across town can get someone under anonymity and say, 'Oh, well that's not true, he said that didn't happen. That did happen.' And we could play this game all day long, because that's what's already happened. I've been accused of things that are not true. What I apologized for is what I did. I sent inappropriate text messages…. One thing that the author of that story and I can absolutely agree on is that there was no sex. That is… that's clearly stated, it was in other reports, there was no sex. And you know, there is a lot of people in this day and age that I think are voyeurs, and they want to know all these illicit details and they want to think and… People put things into people's mouths of what they say happened that didn't really happen. But that's the clearest thing that I can possibly bring up, is that there was no sex.  This is about inappropriate texting.

ZURIK: DID YOU BUY HIM UNDERWEAR?

YENNI: Again, there are fictional elements to that story, Lee. I agree, I hear what you're saying.

ZURIK: BUT I'M JUST ASKING, YES OR NO? IT'S A YES-OR-NO QUESTION.

YENNI: I'm not going to get into the line-by-line, I'm not going to debate it because what's going to happen is…

ZURIK: BUT WHY WON'T YOU BE TRUTHFUL AND JUST SAY, YES OR NO? DID YOU BUY HIM UNDERWEAR?

YENNI: Because, like I just said, a reporter from across town is going to get somebody under anonymity, and he's going to say, 'Oh, he denied that. But no, that's true, that happened.'  And it's my word against their word.
The two allegedly met at a function at the boy's high school in New Orleans, though Yenni denies this. When asked to speculate on why he might have sexted a teenager, he stresses that the accusations made of him don't "define" him. "What does that mean, it doesn't define you?" Zurik asks. "To simply say, I'm not gay," Yenni says.
Meanwhile, Jefferson Parish Council and Sheriff have both requested that Yenni resign, which he has previously refused to do. "It's a very difficult scenario that we find ourselves in, and it is very hard to continue the business of day-to-day parish government with this hanging over us all," Councilwoman Jennifer Van Vrancken said. Also: the FBI is looking into the case.
G/O Media may get a commission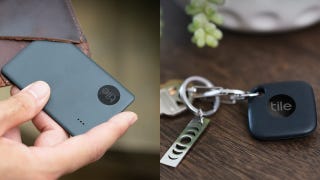 Up to 35% off
Tile Item Trackers
Sam Stecklow is the Weekend Editor for Fusion.