Officer Jensen Godfrey entered the Louisville Metro Police force in 2004 as Jennifer. A decade later, he's now going through the process of informing his colleagues he's been transitioning to male.
"It's not helpful to have to leave part of yourself at home," Godfrey told The Courier-Journal, who profiled him this week. "I felt like I was hiding something from them, and I hated that."
Godfrey began transitioning five years ago, but kept it to himself until recently because he feared rejection and that he would disappoint family and friends.
"I had to grow past my own stigma of what it meant to be transgender," Godfrey said.
G/O Media may get a commission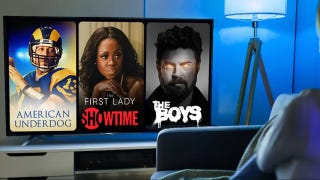 UNDER $1
99¢ Prime Video Channels
Louisville joins a growing number of law enforcement workforces that include transgender officers, including San Francisco and Austin.
More than 250 active duty police and sheriff deputies have transitioned since 1976, according to interviews conducted by Julie Marin, co-founder and president of the Transgendered Community of Police and Sheriffs, a group of working and retired law enforcement officials who identify as transgender.
Still, police departments in Middletown, Connecticut, and Oklahoma City have faced gender discrimination lawsuits from former officers. Kentucky does not have any statewide laws that prohibit discrimination based on sexual orientation or gender identity in both public and private sector employment.
HR gave Godfrey's colleagues a "transgender 101" developed by some Louisville metro workers. "Some were vocal with questions. Some gave him a hug. One guy slow clapped. Others sat silent or confused," the Courier-Journal reported.
The Courier-Journal profile by reporter Matthew Glowicki explored some of the issues Godfrey faced in Kentucky. A friend recalled Godfrey disappearing from a movie for "a long while" because he stood outside the men's bathroom to make sure it was empty before he entered. Godfrey often uses cash or asks his girlfriend to close out the tab when they go to dinner. He wants to avoid problems with the name Jennifer on his credit card.
Earlier this year, Kentucky state Sen. C.B. Embry introduced legislation that would ban trans students from using restrooms that match with their gender identity. The bill ultimately died in session, but was a clear indication that prejudice and transphobia still exists. The Louisville Metro Police department has been part of their own controversy after failing to identify a murder as a hate crime when evidence showed the attack may have been motivated by anti-transgender bias.
Godfrey has worked with Louisville's city human resources director to develop a timeframe for transitioning at work. Besides changing bathrooms, no longer patting down women, and switching pronouns, Godfrey says he hopes not much more will change at work.