NEW YORK—Sylvia Banderas Coffinet has been thinking about going public with her story for several weeks. Today she's a high-power magazine executive in a big New York office with a million-dollar view, but her journey to success was fraught with uncertainty.
Banderas entered the United States illegally as a child and was undocumented here until she was 18. She grew up in Southern California in the early 1990s under Governor Pete Wilson, during the nasty days of Proposition 187, the infamous anti-immigrant ballot measure that would have denied health care, education and other social services to undocumented immigrants. Nearly 59% of Californians voted to approve the measure that would have forced teachers to report undocumented students to immigration officials. It was eventually overturned in the courts.
Banderas lived through the anxiety of one of the country's uglier episodes of anti-immigration sentiments, and she understands the fear that undocumented children and mixed-status families are experiencing with Donald Trump's campaign right now.
G/O Media may get a commission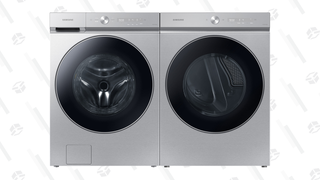 Get $500 back in credit
Last Chance: Samsung Bespoke AI Washer and Dryer Preorder
That's what inspired her to come forward now as a formerly undocumented women with a message of encouragement for the young people of today.
"I'm sharing my story now because i want the children watching this who grew up like me to not give up hope," said Banderas, who was formerly an executive at People en Español before becoming a publisher at HOLA! USA.
Banderas says she can't believe the same type of anti-immigrant rhetoric that she heard as a kid 22 years ago is now being replicated and amplified on the national stage.
"That was one of the hardest times in my life," she says of her childhood in California. "There was a constant conversation on television telling me that I was a parasite, wasting resources, and stealing jobs. I grew up hearing that and feeling ashamed and feeling that maybe I was not as worthy."
Now a new generation of millions of undocumented children and kids born in the U.S. to undocumented parents are being subject to that same type of talk.
To her point, Fusion's Jorge Ramos recently met with children in an elementary school in Austin to talk about the threat that Trump's candidacy represents to their families. The students said they were all familiar with Trump's calls for a border wall and his eagerness to deport undocumented immigrants. "My mom is from Mexico and now her family has to go over there to Mexico," one young student student.
The students talked about Trump's proposals as if his proposals were already laws, showing that the fear is real, even if a Trump presidency never is. Regardless of what happens Tuesday the trauma caused by his campaign with endure among many children.
Banderas says she knows there's nothing she can say to make things better for everyone, but she says this is what she wishes someone had told her: "Don't give up on your dreams. You are worth it. You are worthy. Remember that. You are worthy. And keep fighting. Keep dreaming. Don't take no for an answer."