Dawn Robinson had worked at Kennebunk Savings in Maine since 1994. Last August, she was promoted to the position of chief information officer at the bank after playing "an integral role in technological developments and advancements in the Information Technology Department," the Journal Tribune reported at the time.
Company managers were proud to have promoted someone from within their own ranks, and president and CEO Bradford C. Paige told the newspaper that promoting Robinson was "a success in our efforts to develop senior level staff members from within."

But less than a month later, Robinson was out at the bank, losing her job over an Islamophobic meme she shared almost two years earlier on Facebook. A company announcement of her firing, also shared on Facebook, has sparked a debate in the comments section, with about half of commenters congratulating the bank for appropriately responding to an employee in a senior management position who had expressed bigoted sentiments online.

Other commenters believe Robinson has the right to "express her own opinions" in her private life and is the victim of a "witch hunt" after decades of working at the bank.

It might be tempting to explore that last line of argument, but curiosity evaporates as soon as one sees the meme Robinson shared, which was brought to the attention of bank managers by Portland, ME resident Justin Steele, according to the Maine People's Alliance website, Beacon.

G/O Media may get a commission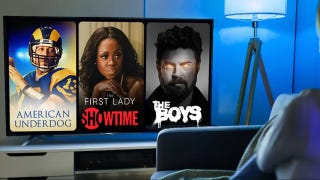 UNDER $1
99¢ Prime Video Channels
The meme features a smiling dog with text above its head stating, "I bit a Muslim." The so–called "punch line" comes next: "I had to lick my ass for an hour to get rid of the taste."
 

In its response, Kennebunk Savings stated:

As you might imagine, our first reaction was one of dismay and disappointment. We expect all of our employees to uphold the highest standards of professionalism and respect. The images are not appropriate, the themes portrayed in the images are unacceptable to the Board of Directors, our management team and our employees, and in no way reflect the views or values of Kennebunk Savings. The employee mentioned in the press release is no longer with the company.

For his part, Steele told the Beacon that, "The only encouraging part of this situation is that Kennebunk Savings Bank has shown that they are not willing to accept this type of hateful rhetoric by those in influential positions within their organization."

Robinson's LinkedIn profile continues to describe her as Kennebunk Savings' chief information officer.