[fusion-script src="http://mp1o.s3.amazonaws.com/fusion/fusion-embed.js"][/fusion-script]
For male virgins, talking about sex isn't easy.
Female virginity has been upheld as the sacred ideal since the dawn of time. For just as long, male virginity has largely been viewed as shameful, embarrassing, a failure for any "real man." Add to that relentless pop culture moments and a disproportionate number of Judd Apatow scenes (see: here, here and here) that conspire to enforce the stereotype.
Both ends of the gender-divided spectrum are problematic in a variety of ways, but the shame and embarrassment associated with being a male virgin has pushed some to seek support online.
Whisper, the anonymous secret-sharing app, is a destination for male virgins searching not just for sexual partners but also for advice and a sense they're not alone. Here's a look at what people are posting:
G/O Media may get a commission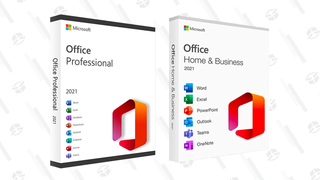 89% off
Microsoft Office Professional 2021 Lifetime License
Travis McKnight can relate to the shame and confusion expressed in the above Whispers. McKnight, who wrote recently in The Guardian about his experiences as a 23 (now 24)-year old male virgin.
"I didn't become comfortable with my virginity until recently," McKnight said. "It got to the point where I just got tired of feeling ashamed. It was exhausting to finally keep up this facade of, 'I'm not a virgin.'"
McKnight would lie to friends to make it seem like he was more experienced. With American culture so saturated with sex, he found it hard to escape the topic.
"Just think about how often that subject comes up, explicitly or offhand," he said. "And you're stuck backtracking, trying to keep your story together."
It's no wonder that male virgins like McKnight grow weary trying to maintain the facade of sexual experience, says Therese Shechter, director of the documentary "How to Lose Your Virginity" which re-airs on Fusion in September.
"There's such a lack of honest conversation about sexuality in young peoples' lives," Shechter said. "So what rushes into fill this vacuum? Inaccurate, sexist and judgmental pop culture items."
It's also no wonder that male virgins are turning to forums like Whisper to seek a sense of community. Since the rise of online chat forums in the early 1990s, men and women struggling with intimacy have created online support networks.
Along with Whisper, forums like Reddit, You're Not Alone and Shechter's own V-Card Diaries are destinations for men to find camaraderie from the anonymous comfort of their home computers.
"Becoming sexual is a long and gradual process," Shechter said. "It's not some race to the finish line where the money-shot is the end goal."
Shechter and McKnight agree that anonymous Whisper confessions could help male virgins overcome the most challenging obstacle: the feeling that they're all alone.
For more confessions on sex and virginity, try Whisper here.
*Required reading: everything from Jessica Valenti
Alexandra DiPalma is a producer for Fusion Lightworks, Fusion's In-house Branded Content Agency.