Pope Francis, the world's first woke pope (I'm sorry), flew over the Caribbean islands that were obliterated by Hurricane Irma on Sunday, prompting him to share his succinct yet utterly blistering opinion on climate change deniers.
"Man is stupid, the Bible said," Francis told journalists, quoting a passage from Psalms that reminded him of climate change denial. "It's like that, when you don't want to see, you don't see."
Francis, whose position on human-influenced climate change has defined his papacy, implored leaders who deny climate change's existence, aka President Trump, to embrace scientific consensus of the phenomenon. Otherwise, we're doomed—and we still might be doomed even if science is embraced.
"Anyone who denies [climate change] should go to the scientists and ask them. They speak very clearly. Climate change is having an effect, and scientists are telling us which path to follow," Francis said aboard the papal plane after his trip to Colombia. "And we have a responsibility—all of us. Everyone, great or small, has a moral responsibility. We must take it seriously. History will judge our decision."
While Francis' remarks were clearly directed at one unnamed individual in particular, he was more direct in his criticism of President Trump's decision to end DACA. Questioning whether Trump was truly pro-life, Francis said if he were, "he must understand that family is the cradle of life and one must defend its unity." And it was not the first time a representative of the Catholic Church excoriated the Trump administration's immigration policy.
G/O Media may get a commission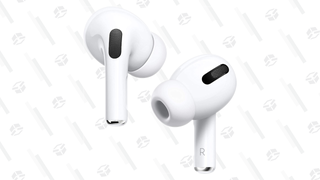 28% Off
Apple AirPods Pro Wireless Earbuds
Pope Francis did not, however, deign to respond to former Trump adviser and practicing Catholic Steve Bannon's rebuke of the Catholic Church. But, boy, would that have been good.