Steve Rannazzisi has forged himself a nice little career in show business—he's on The League, he shills chicken in Buffalo Wild Wings commercials, and he has a standup special on Comedy Central this Saturday. It's a career he's always attributed to escaping from the 54th floor of the Twin Towers on September 11 and then having some kind of existential crisis and then deciding to become an actor in Los Angeles, the New York Times reported today.

In elaborate detail, Mr. Rannazzisi, 37, has described working at Merrill Lynch's offices on the 54th floor of the south tower when the first plane struck the north tower.

"I was there and then the first tower got hit and we were like jostled all over the place," he told an interviewer in 2009.

He fled to the street just minutes before another plane slammed into his building, he said, and decided that very day that life was too precious to waste opportunities. So he abandoned his New York desk job to pursue a career as an entertainer in Los Angeles.
So, the New York Times also reported that Steve also made that story up. In a statement issues to the Times, Rannazzisi admitted he "was not at the Trade Center on that day." Whoops!

"For many years, more than anything," he said, "I have wished that, with silence, I could somehow erase a story told by an immature young man. It only made me more ashamed. How could I tell my children to be honest when I hadn't come clean about this?"
Now it sounds like Buffalo Wild Wings, Steve's generous benefactor and employer, might be backing out of their relationship.

"We are disappointed to learn of Steve's misrepresentations regarding the events of September 11, 2001," Buffalo Wild Wings said in a statement Tuesday night. "We are currently re-evaluating our relationship with Steve pending a review of all the facts."
G/O Media may get a commission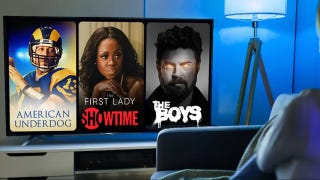 UNDER $1
99¢ Prime Video Channels
Beer, sports, wings, fake 9/11 stories.
Michael Rosen is a reporter for Fusion based out of Oakland.