Sometimes words are not enough, and your message is only fully realized if you add a teeny broken heart or a minuscule eggplant. So when discussing fashion magazines' new March 2015 covers, we used sentences, sure, but we also used emoji.
These emojinally-charged reviews capture the true essence of our thoughts, as only a thoughtfully chosen smiley or pizza slice can. Read on to check it out. (If you're seeing boxes, try Safari instead of Chrome.)

Real Talk: Damn. Is this really what "sex positive" is supposed to look like? Fifty Shades of Grey co-stars Dakota Johnson and Jamie Dornan look "consensually" pained to be near one another.
💭: 😩💔🍆🙅🚫💑🔚👎
G/O Media may get a commission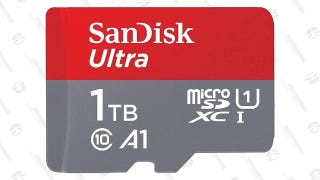 Save $75
SanDisk Ultra 1TB MicroSDXC Card
Real Talk: Spring fashion is handled. Sporting some wavy locks (that are demonstrably tame compared to her jail-house 'fro from last week's "Scandal" episode) and plenty of sequins, the notoriously tight-lipped actress apparently gets quite "candid" in March's InStyle. We hope this means she stops dodging questions about "Baby Pope" and that gorgeous hubby of hers that she's never photographed touching. We want answers, Kerry! Don't make us seal you in a undisclosed movie set cum prison cell to get them from you!
💭: 💐🌸🐣✨✨✨🇺🇸🍷🔫🗽
Real Talk: I swear my bottom lip started to quiver when I saw this Town & Country cover with "Belle" star Gugu Mbatha-Raw. This lily-white tome finally had the good sense to put one of the most talented actresses of color in the game on the cover, because LOOK. AT. HER. Mama, we made it!
💭: 😢👸🏰👏🇬🇧🔝🙌🏆
Real Talk: I believe those are Britney's abs. I just do. But that new nose Women's Health has applied to Brit-Brit's face is a harder sell.
💭: 👙🙆💪💯👃🚫

Real Talk: Jane the "Virgin" looks like she's recently been ravished. But you'll get no complaints out of me: Gina Rodriguez is slaying in that body chain/necklace on the cover of Latina.
💭: 🍑🍑👰🙏💒
Real Talk: Oof. What's this, the fourth or fifth LOVE cover the Kardashian crew has snagged in recent months? Does the family have the glossy on retainer or something? I'm bored with her unsmiling face, the heavy contrast lighting, and overall concept. But the burger can stay. In-n-Out can always stay.
💭: 👽📞🍔🍟👘😴
Real Talk: The actress talks motherhood, pregnancy, Nazi Enigma codes, and how her real name isn't even Keira Knightely to begin with. We've been loving the wrong woman this entire time.
💭: 👶🍼📜⏳🇬🇧
Real Talk: Meh. A beautiful Kate Winslet doing for Harper's Bazaar UK what a beautiful Kate Winslet do. The heavy and dramatic eye make-up is a nice switch-up doe.
💭:🐼💍👏💁
Real Talk: There is something super "Gisele on safari" about this British Vogue cover (I think it's the belted khaki suede and the dramatic tan) that makes me fear "the first lady of the New England Patriots" has been photographed for some terribly offensive "African Queen"-themed spread inside. There is a precedent here. 
💭: 🐘🇬🇧👸🏉🌅⛺️🌍


Real Talk: I've been staring at this picture for hours and I still don't know what's happening with Perry's ensemble for Elle's cover.There is something of an amoeba motif emblazoned on the front of her unstructured top that got me like…¯\(°_o)/¯
Real Talk: I mean, who wouldn't want to get lost in a desert with How To Get Away with Murder's Jack Falahee? Especially if he comes dressed for the caravan in that teeny tank. Yes, please!
💭: 😝☀️🐺🔥🔥🔪💥
Real Talk: Gwen Stefani admits to March's Cosmopolitan that it's a "miracle" she's still married to hubby, Gavin Rossdale. But is it?! Girl is a straight up firework in this star-spangled chain-link dress: you completely understand why her man of 13 years isn't leaving anytime soon.
💭: 🇺🇸🇺🇸⭐️👠💯💥💥😜
Real Talk: Mind doesn't compute. Mind doesn't compute. Nothing going in, nothing going out. Just Rihanna, sharks, and gold. Just Rihanna, sharks, and gold. Just…Rihanna…sharks…and…gold….
💭:💰💰💰💰💰💰💰💰💰🏆🏆🏆🏆🏆🏆🏆🏆🏆🏆🏆📀📀📀📀📀📀📀📀📀📀🌊🌊🌊🌊🌊🌊🌊🌊🌊🌊🌊🌊🌊🏊🏊🏊🏊🏊🏊🏊🏊🏊🏊🏊🏊🏊🏊🏊😩😩😩😩😩😩😩😩😩😩😩😩😩

Photos via Glamour, Women's Health, Town & Country, Latina Magazine, Vogue UK, Harper's Bazaar UK, ELLE, ELLE UK, Cosmopolitan, LOVE, OUT Magazine, and Harper's Bazaar.
Marjon Carlos is a style and culture writer for Fusion who boasts a strong turtleneck game and opinions on the subjects of fashion, gender, race, pop culture, and men's footwear.