There are three things you need to know about Saturday's nationwide "March Against Sharia," taking place during Ramadan.
First, there is no such thing as a sharia threat in the United States. It's a myth. Second, the organizers of the march belong to an anti–Muslim hate group, despite what its leaders say on Twitter. Third, with Donald Trump in the White House, the march is yet another strident dog whistle for Islamophobic and bigoted Americans to bring their religious intolerance into wide–open public spaces.

March organizers ACT for America, which the Southern Poverty Law Center has characterized as a hate group, claim the events taking place in about two–dozen cities across the U.S. are "against Sharia law and for human rights."

Their website states:

Our nation is built on the freedom of religion—a pillar of our democracy—which we must always respect, protect, and honor. However many aspects of Sharia law run contrary to basic human rights and are completely incompatible with our laws and our democratic values.
G/O Media may get a commission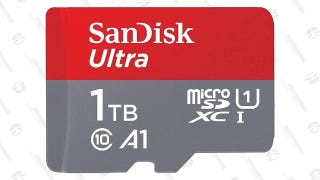 Save $70
SanDisk Ultra 1TB MicroSDXC Card
But taking up the mantle of democracy and human rights activism is akin to Trump saying his Muslim ban really isn't a Muslim ban. Make no mistake, Saturday's marches are another step in the strategic normalization of anti–Muslim hate, buttressed by the increasingly vocal white supremacist and right–wing extremist groups that now feel emboldened and empowered, regardless of what ACT for America claims.


To see what it's like on the other side of this equation, look at places like the Islamic Center of Greater Cincinnati, in Ohio. As the Journal News reported, this weekend the center is holding one of its regularly scheduled open houses to build bridges with the community, inviting members of the public into the center's mosque in order to "Know Your Neighbor." But the open house on Saturday will be held in a particularly tense atmosphere, given the planned anti–Muslim rallies.

The center issued a statement on Friday:

We hold these events because diversity and mutual understanding between people of all faiths, races, and ages forms the foundation of a strong community.

Unfortunately, a small group of very extreme people have decided to protest our open house this Saturday as part of a nationally coordinated campaign to stigmatize American Muslims this Ramadan. So we are redoubling our efforts to welcome all people to share part of their Saturday afternoon with us to show unity, strength and a belief in the American principle of religious freedom.
Center members' fears aren't unwarranted by any stretch. As the SPLC pointed out two weeks ago, the "March Against Sharia" official Facebook page is full of anti–Muslim hate. The SPLC noted:

A May 9 post by Greg Meyer shows former President Barak Obama with a noose around his neck with the words "I look forward to this every day!!!" Theresa Lawver responded to Meyer's post writing, "Me too and it WILL happen. President Trump is a genius!!"
And:

Sherine Elgammal posted on May 16 "Muslim men are brought up with cravings of rape, child sex, and sex slaves, etc." Sam Bishop described Muslims as "maggots" in a post. Poindexter McBean followed up with "Even maggots have purpose in science."

ACT for America had to cancel its scheduled rally in Batesville, AR, after it was reported that the event was organized by violent neo–Nazi Billy Roper, who once said, "Every non-White on the planet has to become extinct." Roper went on with the march anyway.

ACT for America responded with a statement on Thursday saying, "We stand firmly opposed to any actions by individuals or organizations that seek to attack or intimidate based on race, religion, or sexual orientation." Which, again, is akin to saying Trump's Muslim ban isn't a Muslim ban.

The group's founder, Brigitte Gabriel, practically bragged on social media that she has access to Trump's (and puppet master Steve Bannon's) White House. And according to Islamophobia Reframed and HuffPost, Gabriel likes to attend rallies and deliver speeches that include lines like, "[a] practicing Muslim, who believes in the teachings of the Koran, cannot be a loyal citizen to the United States of America."

Gabriel strongly disputes the allegation that ACT for America is anti–Muslim, and as proof, she noted that Saturday's marches are scheduled to have Muslim speakers. Some of the group's members also are Muslims, it claims. The group's followers will say that anyone who opposes these marches is anti–democratic and tacitly supports female genital mutilation, which might seem ridiculous on its face, but will probably serve as more fodder for mindless Islamophobes to throw at "libtards" on social media and in online comments sections.

And while there very well may be Muslim speakers at the "March Against Sharia," there also are people like this:

And this:

And:

And:

The SPLC is live blogging the "March Against Sharia." You can follow updates here.