Mexico City is sending up the bat signal.
Exasperated by their country's Gothamlike levels of crime, corruption and malfeasance, Mexicans are watching the night sky in dim hopes that the the Dark Knight will swoop in and save the day. Batman is one of the most beloved superheroes in Mexico, a country that can identify with dark comic book tales.
And Mexicans are desperate for a hero. In homage to the Dark Knight and his 75th anniversary, a group of 30 prominent Mexican artists created a tribute that is currently on display at Mexico's Museum of Design.
"Mexican culture is applied to Batman throughout the exhibition," museum visitor Luis Gallegos told Fusion. "I became a fan because of my father. We used to watch that silly '60s TV show together, then I became immersed in the comics, the video games, the movies."
G/O Media may get a commission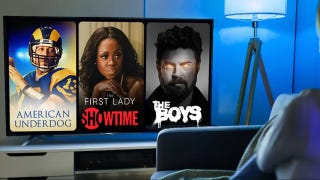 UNDER $1
99¢ Prime Video Channels
"Batman's narrative is about people trying to achieve justice above corruption," Gallegos said. "This is Mexico's story."
This Batman mask is made with tiles found around the country and its paintings of eagles and snakes reflect Mexico's national symbols.
"He's a very real character who has suffered and has used that pain to achieve justice," says Patricia Alvarez, general manager of the Design Museum.
"Mexico City has many Batmans too but they are all anonymous," Alvarez said.
A Mariachi Dark Knight…
A Batman mask inspired by Mexican "Alebrijes," colorfully invented creatures representative of Oaxacan folk art.
A mask inspired by Aztec god "Quetzalcoatl," the feathered serpent.
"Mexicans can easily identify with Batman. He's a superhero without superpowers. Batman only has his conviction to fight against injustice and this is what ultimately resonates with Mexican fans. He's a normal human being that uses his own means to fight for good." — museum director Alvaro Rego
Decorated with skulls and designs inspired by Mexico's Day of the Dead.
Motives found in the Aztec God "Xochipili" from the Nahuatl "Flower Prince." The statue is covered in carvings representing psychoactive drugs including Mushrooms, Tabaco and Peyote, all plants used in ancient Mexican culture to connect with the gods.
Photographs by Encarni Pindado