The creative committee of studio execs and comic book writers that oversaw the production of some of Marvel's most successful movies has broken up.
When Kevin Feige became the president of Marvel Studios in 2007, the company had only barely made it out of bankruptcy after selling off the film rights to some of its most valuable properties like the X-Men, Spider-Man, and the Fantastic Four.
In the eight years since Iron Man, the first installment in the sprawling cinematic universe, Marvel's superhero movies have become the most successful Hollywood franchise of all time. Collectively, Marvel's first 12 films, the studio has grossed over $8.9 billion worldwide (the Harry Potter films, the second most successful franchise, have grossed just over $7.7 billion, for comparison.)
That success is due, in part, to a small team responsible for obsessing over the minute details of every Marvel movie.
G/O Media may get a commission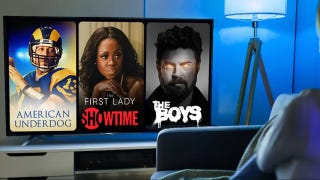 UNDER $1
99¢ Prime Video Channels
In addition to Feige, Alan Fine (president of Marvel Entertainment), Brian Michael Bendis (creator of Marvel's Ultimate comics universe,) Joe Quesada (Marvel's chief creative officer), and Dan Buckley (a well-known Marvel publisher) collaborated on things like script and production notes that would shape the MCU. Going forward, however, they will no longer directly consult one another as a cohesive group when it comes to the Marvel's films.
Previously Feige, whose influence was mainly focused on cinematic properties, reported to Isaac Perlmutter, who oversaw Marvel's television and publishing arms. Following this shakeup, though, Feige will work directly with Alan Horn, the chairman of Disney Studios. In theory, this new, closer working relationship will give Feige more editorial influence over the larger vision for the MCU and streamline some of the creative process.
Despite the box-office strength of Marvel's movies, the creative committee's influence on the production side of things was widely regarded as a double-edged sword. As Bendis himself has explained, the group would go over pre-production scripts and give the sort of feedback that, when coming from five people with different perspectives, can sometimes slow things down.
According to Birth. Movies. Death., creative differences over things like fictional science or minute plot details, as well as a slow turnaround time from the committee, could bring the work to a halt, which would, in turn, halt the movie.
Edgar Wright, the original director and co-writer for 2015's Ant-Man, signed on in 2006. By 2014, after shooting test footage that leaked and turning over three script revisions, Wright walked away from the project, allegedly because of conflict with the creative committee. Joss Whedon has spoken about similar clashes with Marvel that affected Avengers: Age of Ultron.
The new restructuring points to the company's interest in streamlining its creative pipeline. As Comicbook points out, the creative committee was originally formed in order to keep the MCU somewhat in line with its comic book source material. In the past, Feige has tiptoed around flat out saying that this was a part of his vision, but the reorganization definitely makes it seem that way.
"Comic book fans know that there's no such thing as a comic book genre any more than there is such a thing as a 'novel genre,'" Feige told Hollywood.com in an interview about Captain America: Winter Soldier. "We always saw it as our job to embrace that when we bring them to the screen. In that way it was organic, but it really did become a bit of a mission statement, if an informal one."
In the same way that Winter Soldier was more of an espionage thriller and Ant-Man was a heist film, Marvel's future movies could fall more in-line with a more unconventional take on comic books.
With the ties between the MCU and the comic books even farther apart, Marvel's big-budget flicks could become standalone works less fundamentally constrained by their source material and more able to redefine the way we think about superhero movies.
Fusion is partly owned by ABC, a member of the Disney family.