Against all public ire, better judgement, and general respect for women in general, Matt Damon can't stop spouting nonsense about the pervasive rape culture that seems almost inextricably rooted in Hollywood. Yes, that's right (deep breath):
MATT DAMON SAID SOMETHING ELSE STUPID AND DAMAGING AND WILL MOST LIKELY CONTINUE TO SAY STUPID AND DAMAGING THINGS ABOUT WOMEN UNTIL WE ALL SEE HIS STUPID MOVIE DOWNSIZING, SO HELP HIM GOD.
Last week, Damon caught flak for being yet another person to presume that we really need to differentiate between people like Harvey Weinstein and other men who sexually assault women, but you know, they're not dicks about it, not that he knows those kinds of men, but you know, they probably learned their lesson.
He wasn't done! In an interview with Business Insider today, Damon continued on his rampage with some new fiery commentary that goes along the lines of, "Maybe we need to be focusing on the dudes that aren't sexually assaulting women, eh?"
"We're in this watershed moment and it's great but I think one thing that's not being talked about is there are a whole s—-load of guys — the preponderance of men I've worked with — who don't do this kind of thing and whose lives aren't going to be affected," Damon told Business Insider while promoting his new movie, "Downsizing" (opening in theaters Friday). "If I have to sign a sexual harassment thing, I don't care, I'll sign it. I would have signed it before. I don't do that and most of the people I know don't do that."
G/O Media may get a commission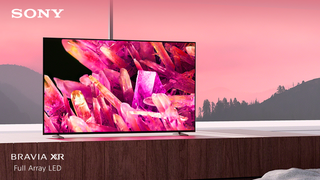 $400 off
Sony 55 Inch 4K Ultra HD TV X90K Series
So yes, Matt Damon applied the #NotAllMen formula to Hollywood. He's taken the conversation about the disdain and sexism and violence against women (and some men) face, and repurposed it to talk about the men who don't personally physically hurt others. I don't even know what the whole "sexual harassment thing" he wants to sign is about, and apparently neither does he.
It's clear that this is all happening due to one reason. The slowly disintegrating spirit of the patriarchy has chosen Matt Damon as its medium. Possessed by the floating specter of Hollywood-brand misogyny that was temporarily dislodged with the downfall of Weinstein (but keen on finding a more subtle, inconspicuous vessel), he has taken feminism and general acknowledgment of women hostage until we all fucking see his movie Downsizing about making people small in order to save the world. FINE MATT. FINE.