Sometimes words simply are not enough, and your message is only fully realized if you add a teeny broken heart or a minuscule eggplant. So we're reviewing the new May 2015 covers of fashion magazines, using text and emoji.
These emojinally-charged reviews capture the true essence of our thoughts, as only a thoughtfully chosen smiley or pizza slice can. Read on and see! (*If you're seeing boxes, try Safari instead of Chrome.)
💭: 🇺🇸 👸 ✨ 🗽 👍 ➡️⬅️✔️❤️👪 💙
Real Talk: The Clinton dynasty is rolling through your newsstand this month, promoting Hillary's 2016 presidential campaign ("I'm ready," ya'll! Are you?!) and Chelsea shows her support for her mama with windblown locks, tailored Gucci, and plenty of talk about motherhood and shattering glass ceilings. 
G/O Media may get a commission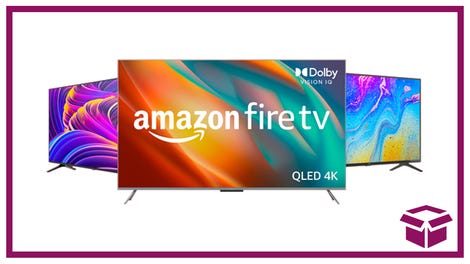 Ooh. stunning.
New Amazon Fire TVs

💭: 👶🍼💦🍑🍑💍💒👰💏
Real Talk: Removing baby James from her teet long enough to be shot for Allure's cover, Blake Lively tells the magazine that breastfeeding is a "full-time job" with the shocking guilelessness of a new mom. Welcome to parenthood, Serena van der Woodsen!

Real Talk: This Glamour cover featuring the holy trinity of American style sweethearts is absolutely handled. Hugging and leaning on one another like IRL besties, Sarah Jessica Parker, First Lady Michelle Obama, and Kerry Washington pose coordinating neutrals in an effort to help raise awareness about military families. America may not believe in gentry, but we salute you queens!
Real Talk: May's Essence magazine cover is the very reason black Emojis were invented. We  need infinity 😍 for seeing a coterie of powerful black women in Hollywood assembled. Go Issa Rae, Mara Brock Akil, Shonda Rhimes, Debbie Allen, and Ava Duvernay! If black emoji won't work, little pink women will have to do: power on, ladies!
💭: 🚺💐👯👠🎥🎤🎸
Real Talk: Zoë Kravitz shouldn't have to share a cover, but at least she's in good company on one of Marie Claire's five May issues. Anointing Kravitz, Hailee Steinfeld, Kate Upton, Felicity Jones, and Iggy Azalea (debatable, but whatever) as the "fresh faces" of 2015, the ladies look springtime-ready in flower-embedded frocks, fresh prints, and a little flash of boob.
💭 : 📷✨📖 🇫🇷 🗼 ⌛️👏
Real Talk: Well, it's about damn time! Liya Kebede gracing the cover of May's Vogue Paris makes her the first black model to do so in five years, and it's ridiculous to think that that's a benchmark (still!) in 2015. France, do better.
💭 : 👄💅💁🌺🎥⭐️🏆🌍🇬🇧
Real Talk: Harper's Bazaar UK declares Lupita Nyong'o the "new face of beauty" on the May cover, and we're all thinking, "You're late! She's been on!" But no matter: we're glad the Oscar winner and Lancôme spokeswoman is getting the shine she so very much deserves. We just hope she's spilling beauty secrets inside: Her skin looks ***flawless.
💭 : 🔞👀👙👅👄💦😳
Real Talk: Doesn't 19-year-old Kendall Jenner rocking a hardly-there bikini on the cover of men's mag GQ seem a bit… premature? She has her whole life and career ahead of her to battle hypersexualization and airbrushed thigh gaps, must she start now?! ::sigh::
💭 : 💰👑🏆💅👸👖
Real Talk: Looking like a comely pot o' gold newly minted supermodel Anna Ewers shimmers on the cover of May's Harper's Bazaar in a cut-to-there gilded gown. A member of designer Alexander Wang's "girl gang," the German-born babe discusses how she was convinced to strip down for Wang's infamous denim ad. Yes, the very suggestive one where Ewers' jeans rest somewhere around her ankles, appearing as though she just got too tired to take them off completely.We've all been there.
💭 : 🔞👄❌💄💅👶🍼🏡 📷✨
Real Talk: Behold! Here stands before us a teenager — a real live teenager, and ah…what a lovely sight. Gone are the fake eyelashes, excessive contouring, sea green hair extensions, and the overly plumped lips; instead we see Kylie Jenner as a baby-faced natural beauty. Despite the youngest of the Kardashian-Jenner brood continuing to age herself in her interview — the 17-year old saying she wants to have a baby in the next ten years (sure, sure) and saying she'll be moving into her own mansion (obviously) on her 18th birthday — she at least has a semblance of chill here. And if you move your trained eye down to the bottom of the image, you'll see Tyga, her much-older rumored boyfriend, has found himself on the cover, too, as apart of the mag's "music special." I would not consider Tyga's music "special" in any way, but then again I'm just a hater who wants Kylie to be a regular teen queen and finish high school, so what do I know?
Marjon Carlos is a style and culture writer for Fusion who boasts a strong turtleneck game and opinions on the subjects of fashion, gender, race, pop culture, and men's footwear.