Over the weekend, Woody Allen, of all people, thought it was appropriate to share his thoughts about the Harvey Weinstein sexual abuse scandal with the BBC. Unsurprisingly, he was later forced to clarify his comments because maybe Woody Allen—who was accused of sexually abusing his daughter Dylan Farrow (he denies it); whose behavior towards Dylan was deemed "grossly inappropriate" by a judge; and whose affair with Soon-Yi Previn, the adopted daughter of his partner, has always been scrutinized, shouldn't be talking about the abuse of women.
Allen originally told the BBC:
"The whole Harvey Weinstein thing is very sad for everybody involved. Tragic for the poor women that were involved, sad for Harvey that his life is so messed up. There's no winners in that. It's just very, very sad and tragic for those poor women that had to go through that.
After everyone pointed out that it's probably not appropriate to express sympathy for a monster, Allen clarified late Sunday night that he wasn't actually sad for Weinstein, you dummies! Via Variety:
"When I said I felt sad for Harvey Weinstein I thought it was clear the meaning was because he is a sad, sick man," Allen's statement reads. "I was surprised it was treated differently. Lest there be any ambiguity, this statement clarifies my intention and feelings."
G/O Media may get a commission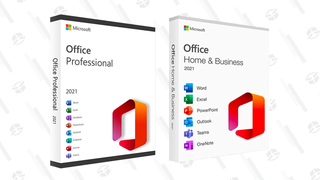 89% off
Microsoft Office Professional 2021 Lifetime License
Again, I'm not quite sure who is interested in Woody Allen's thoughts about a high-powered Hollywood serial predator, but it was nice of Allen to make this about him for a brief moment by failing at doing the bare minimum. And maybe Hollywood should think about why, even after Weinstein, it still thinks Woody Allen is the kind of person who should be in its A-list club.