When NeNe Leakes announced last week that she would be leaving Real Housewives of Atlanta after seven seasons, my first thought was "IT'S ABOUT TIME." The reigning queen of reality television – at least in terms of longevity – Leakes was once charming and authentic. She's the woman who hilariously told the world that she probably could get down to a size 8 but doesn't feel like it because "she's fucking hungry."
A former stripper turned wealthy stay-at-home mom, she didn't blur the lines about the fact that her rise to prominence was hard won. Leakes was fierce; she bleeped and blooped her way through life, using her humor to emphasize the absurdity of being a reality TV star while still telling her truth.
But over time, Leakes fell into a familiar trap laid out for black women on reality TV: She became the villainous black bitch. The realness that was part of her signature charm was soon replaced with an air of superiority. A fight with one cast member ended with Leakes' insistence that she was "very rich, bitch" after her appearance on Celebrity Apprentice. She had plastic surgery. She divorced her husband, but landed her own spinoff on Bravo when she quickly decided to remarry him.
By the end of the most recent season of RHOA, NeNe could hardly end a conversation without reminding the rest of the cast how fabulous she is or how much money she's making. It was almost like she was shedding the skin of her former self in order to walk into her new life as a bona fide superstar. It has been disappointing to watch someone so bold reduce herself to a trope. But did she really have a choice?
Black women tend to fill a very particular role in reality TV, cast over and over as the duplicitous antihero or the mean hag ready to throw down at any moment. This has become such standard reality show fare that Lifetime's UnReal, a fictional show based on the world of reality TV dating programs, has incorporated the phenomenon into its plot. In a recent episode, a black production assistant told the only two black women contestants that they would never win, so one of them had to choose to be the villain to get airtime. Omarosa Manigault-Stallworth, the designated bitch on season one of The Apprentice, built a career on being a misunderstood villain. And Oxygen's Bad Girls Club seems to exist purely as a vehicle for trapping women of color in a house and instigating them into daily rounds of bareknuckle boxing. Reliance on the mean black girl stereotype is one of the reasons reality TV is still so limiting for people of color, particularly on Real Housewives – a franchise that remains inexplicably segregated by race.
G/O Media may get a commission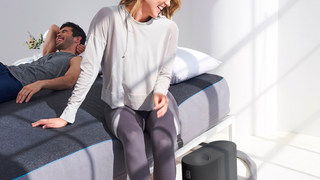 Eight Sleep Pod Cover
Leakes knows black women have limited pathways to respectability, having already overcome her past as a sex worker to get her slice of the American dream. That's why it was strange that she fell victim to playing a part in the prescriptive way Hollywood has too often painted black women—and women in general. Perhaps Leakes turned herself into an unlikeable person as a way to distance herself from reality TV, even if it was that very model that made her a success in the first place.
Even though Leakes has already had a few turns on legit TV shows, I'm skeptical of how Hollywood will embrace her now. Despite the fact that reality TV is terribly popular, not many people make the leap from reality star to respected actress. Jacinda Barrett, the perky Australian alum from the 1995 Real World: London cast, has gone on to a lucrative acting career, most recently seen co-starring in Netflix's Bloodline. But few reality stars have seen such crossover success.
The new NeNe is also faced with navigating an industry that has often undermined black women. Her role on The New Normal was widely criticized for racial insensitivity, seeming at times to be more like a minstrel show than a carefully crafted character with nuance. While her acting was passable, Leakes' character was laughably out of touch as a neck-popping, finger-snapping idea of what a black woman could be. And it was made all the more painful by the fact that we all knew that wasn't who she was at her core.
Her star hasn't faded just yet; Leakes recently announced that she'll be returning to primetime TV with To Tell The Truth, a revamped variety show from the 1950s. If it sticks to the old format, she'll be a celebrity panelist along with Betty White and Anthony Anderson; it's not exactly chump change, but it's still within her wheelhouse as a reality star.
Which NeNe will Hollywood embrace now that she's reshaped her image? It's still possible that she can pull off the transition. But she may discover, as many others before her, that it's easier to slide into reality TV than to climb out of it.
Danielle Henderson is a lapsed academic, heavy metal karaoke machine, and culture editor at Fusion. She enjoys thinking about how race, gender, and sexuality shape our cultural narratives, but not in a boring way.