A group of undocumented immigrants sent a letter to the Department of Homeland Security on Wednesday asking federal immigration officials to grant deportation relief to themselves and other individuals with strong ties to the United States.
Eleven immigrants — hailing from Mexico, Germany, South Korea, Senegal, Honduras and the Philippines — signed the letter requesting "deferred action" on their immigration cases, which would allow them to work and live in the U.S. without fear of imminent deportation.
The small cohort is part of a larger campaign to win deportation relief for many of the estimated 11.7 million undocumented immigrants in the country. Define American, the non-profit campaign organizers helmed by journalist and activist Jose Antonio Vargas, and the National Immigration Law Center, are using the hashtag #1of11million to show that their individual stories are part of a larger narrative of people living in the shadows.
Vargas said on Wednesday that President Obama has the legal power to grant broad deportation relief. "The president has the authority to do this, and there's precedent for it," he told Fusion. "The question is, does the president have the political will to do it?"
Vagas continued: "This is going to be one of the defining issues of his domestic agenda of his eight-year presidency. He can't fail on this."
G/O Media may get a commission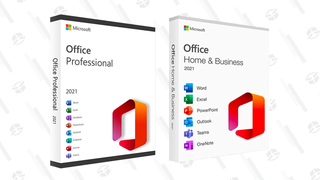 89% off
Microsoft Office Professional 2021 Lifetime License
Here are brief bios of nine of the 11 immigrants petitioning the president for relief:
Michaela Graham
Age: 52 / Born: Germany / Moved to US: 1986 / Lives: San Pedro, California
Graham originally came to the United States on a work visa in 1982, then left and returned in 1986. She never obtained permanent immigration status, but now works in the real estate and restaurant businesses.
Why did she join the effort? "I don't fit into any category and I don't think there will ever be a chance otherwise for me to become legal."
Jong-Min You
Age: 34 / Born: South Korea / Moved to US: 1981 / Lives: Brooklyn, New York
The 34-year-old can't work in the U.S. legally, even though he's been in the country since he was a year old and has a bachelor's degree in sociology. He's been helping his parents with their family-owned grocery store for over a decade.
Why did he go public with his case? "Hopefully more Asians can be upfront and open about it. There's such a fear and stigma and shame, and I want to break that chain."
Eduardo Samaniego
Age: 22 / Born: Mexico / Moved to US: 2009 / Lives: Kennesaw, Georgia
As a child, Samaniego worked on his family's farm in the north-central Mexican state of Zacatecas. He moved to Georgia five years with the hopes of pursuing higher education, but laws there restricted him from attending state universities.
Why did he come to the U.S.? "There was no way out. My family was extremely poor. There [were] days where we had no running water, no food to eat."
Aly Wane
Age: 37 / Born: Senegal / Moved to US: 1985 / Lives: Syracuse, New York
Wane left Senegal at age nine, traveling to the U.S. and other countries with his mother, who was a diplomat. He attended high school and college in the States, but was too old to qualify for President Obama's Deferred Action for Childhood Arrivals (DACA) program. He now works as an activist fighting deportation cases.
Why did he make his immigration status public? "We tried everything that would could, that we're supposed to do under the system: write letters to congresspersons, use media, protests, everything. And it seemed like with each and every case, we were still losing…that kind of radicalized me and helped me understand that there was something wrong with the system and that I had to make a bolder statement."
Erika Aldape
Age: 24 / Born: Mexico / Moved to US: 1997 / Lives: Griffith, Indiana
She considers the U.S. her home, but since she left the country to attend college in Mexico from 2008 to 2011, she's not eligible for deportation relief under an Obama administration program for young people.
Why she joined the effort: "I'm currently living in limbo and sometimes feel like I'm not living at all," she said. "I cannot even imagine how I will ever have a family of my own considering the uncertainty I live with every day."
Maria Guadalupe Arreola
Age: 55 / Born: Mexico / Moved to US: 1998 / Lives: Mesa, Arizona
Among immigration activists, Arreola and her daughter, Erika Andiola, are well-known. Both spoke openly for years about being in the country without authorization; Andiola, however, received deportation relief in 2012. Arreola, who says she fled an abusive husband in Mexico, doesn't have that option.
Noemi Romero
Age: 22 / Born: Mexico / Moved to US: 1995 / Lives: Glendale, Arizona
Romero was arrested in January 2013 during a workplace raid orchestrated by Maricopa County Sheriff Joe Arpaio. She had been working at a supermarket using her mother's work permit, and was charged with identity theft. For that reason, she isn't eligible for deportation relief under DACA.
Why she joined the effort: "I would like to be able to go to school and have a job. I don't want to be scared to go out everyday… because I don't have a legal status."
Felipe Jesus Diosdado
Age: 35 / Born: Mexico / Moved to US: 1997 / Lives: Chicago Illinois
Diosdado has two U.S. citizen children, but has been in deportation proceedings since May 2014. He is a member of the Service Employees International Union (SEIU), which has advocated for a stay of deportation on his behalf.
Why did he join the effort? "[So that] we can do daily-basis things that everybody does, like go to church, go to groceries, without fear."
Jose Antonio Vargas
Age: 33 / Born: Philippines / Moved to US: 1993 / Lives: San Francisco
If one undocumented person could be considered a celebrity, it's likely Vargas (although he doesn't want to be viewed that way). He's told his story in some of the country's biggest media outlets; now, he's putting pressure on President Obama to offer deportation relief that is a humane and as comprehensive as possible.
Why did he organize the effort? "The president has an opportunity to really lift and alleviate a lot of pain and a lot of fear that, unnecessarily, people have to live with every day."
Updated, August 20, 5:15 p.m.: A spokesperson for Homeland Security Secretary Jeh Johnson emailed Fusion a statement in response to the letter from the group, saying, "Since taking office, Secretary Johnson has been taking a hard look at these tough issues, meeting with a range of stakeholders and department employees and working to submit a series of other recommendations to the President to undertake within the confines of existing law."
Ted Hesson was formerly the immigration editor at Fusion, covering the issue from Washington, D.C. He also writes about drug laws and (occasionally) baseball. On the side: guitars, urban biking, and fiction.