Amna Farooqi is a bright, eloquent, 21-year old woman. She is a senior at the University of Maryland, where she studies government and politics. Like many students, she is interested in international politics, specifically in the Middle East, and has thrown herself into a political organization on campus, where she has risen through the ranks and was elected president this year. That organization, J Street U, is a new one, and one that is rather unique—a pro-Israel group that is pro-peace, pro-democracy, pro-two states, and pro-Palestinian, it breaks the mold for Zionist organizations. And Farooqi, a Muslim American, seems perfect at the helm.
Farooqi and I are sitting in a cafe in New York City just days after she won the presidency. She's in town for a board retreat ahead of the start of the school year. She arrives on time, dressed casually, and is polite, answering questions about her identity thoughtfully, with purpose—even though this isn't the first time she's been asked to speak about who she is. She is frank and earnest, with long, loose hair and an easy smile, a picture of undergraduate enthusiasm.
She tells me about how she first learned about J Street, an anecdote that well signifies her position as a representative of the new guard. After high school, Farooqi volunteered at an elderly day center in Maryland. "Some people who are part of the center, who were residents, started bashing J Street and calling it this group of anti-Israel people. I looked it up—or I asked my friend to look it up—and she was like yeah, it's two-states, pro-peace, I think they're pretty normal."
As president of the J Street U, Farooqi oversees an organization with approximately 4,000 active members. There are over 75 chapters nationwide. Farooqi was elected by members of J Street U's leadership, who gathered together at the annual Summer Leadership Institute. Roughly 120 delegates from different chapters thought Farooqi was the best woman for the job.
And Farooqi steps into the role during a trying time for liberal Zionists, an ideology that largely aligns with J Street's vision but is left shaken by last summer's violence.
G/O Media may get a commission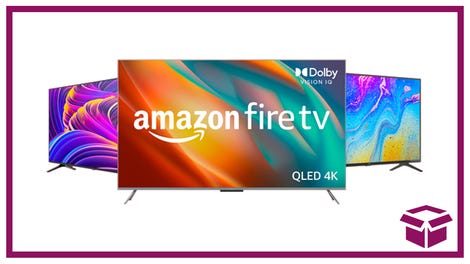 Ooh. stunning.
New Amazon Fire TVs
Operation Protective Edge took place over 6 weeks during the summer of 2014. Israeli air strikes and ground movement against Gaza left more than 2,100 dead. Israel suffered significantly fewer casualties—73 Israelis were killed during the operation, most of them members of the military—but saw a cascade of Hamas-fired rockets rain down on its cities.
The summer's war prompted a number of others to speculate on whether liberal Zionism was over—and whether it had ever existed at all.
But young Jews aren't ready to abandon Israel. According to a survey conducted by Tablet, Jews aged 18-26 who applied to the Taglit-Birthright program felt more connected to Israel at the end of the summer than at the start. The survey included both applicants who took Birthright's free trip to Israel, which fell in the midst of the operation, and those who did not, suggesting that American Jews aren't ready to give up on Israel quite yet.
Years before Operation Protective Edge, Farooqi saw a pro-Israel narrative unfold on her Facebook feed during an earlier battle: Operation Cast Lead, a 22-day long battle that started in late December 2008 and left more over 1,4000 Palestinians dead. "I remember my news feed being flooded with people posting statuses about how many rockets were being fired from Gaza onto Israel and there really weren't that many about how many Palestinian civilian casualties there were. And things like that made it very clear that the majority of the community in Potomac was significantly more pro-Israel. And at that time, I didn't really understand what it meant to be pro-Israel."
J Street, a relatively young organization, is billed as a place for those who stand by Israel, but not by its policies. The nonprofit advocacy group started in 2008, along with the J Street PAC. J Street U, the group's on-campus arm, started in 2009. Since then, the group has gotten flack from more conservative Jewish groups. The Forward said in 2011 that "J Street has been a touchstone of controversy in the American Jewish community since its founding in 2008, when it declared its intention to offer dovish Jews an avenue for critical support of Israel."
In many ways, Farooqi is well equipped to lead J Street's campus arm. The job is not a small one—Farooqi is in charge of six vice presidents, all women, who each represent a region of the U.S. "On a very day-by-day basis," she tells me, "I help guide the movement." One concrete example, she says, is "asking Hillel to put green lines on their maps," denoting the 1949 agreement to establish a Palestinian territory within historic Palestine, rather than attempting to restore the entire region to Israeli control.
Still, J Street is a far cry from how she grew up. Farooqi tells me that growing up in a Pakistani-American home meant identifying primarily with the Palestinian people. "We used words like occupation at home," she says. But her family is supportive, albeit confused, and her friends from her hometown of Potomac, Maryland, which has a large Jewish community, were on the other side of the spectrum. "We had so many synagogues around my house and so many of my friends were Jewish… I always felt like I was in the minority if I said something about Palestine or Palestinians," Farooqi says.
To explain her interest in the conflict, Farooqi cites a transformative high school experience. As the editor-in-chief of her high school newspaper, Farooqi wrote an op-ed supporting Palestine's bid for statehood at the time. That decision turned into an altercation with her friend. "One of my friends turned out to be very conservative on this issue," Farooqi tells me. "We basically had a little bit of a fight. And I was so taken aback by how much, one, I didn't know, but also by the emotional reaction I had, that I realized I needed to learn more."
After that, Farooqi started to learn about the conflict. "I read Crisis of Zionism by Peter Beinart, I started following the news, and I heard about J Street the summer after I graduated high school." Intrigued, Farooqi sought out Benjy Canon, a former president of J Street U, when she got to campus.
Farooqi says J Street wasn't the only organization she explored. Before she landed on J Street U, she checked out a Students for Justice in Palestine meeting. But Farooqi wasn't comfortable with what she heard. "The president, I think one of the first things she said was something like, 'you ignorant Zionist bastards' about a group of Jewish students and that really turned me off. Because one, I thought that was inappropriate, to make that kind of remark, but also, I don't think it's effective to speak to an echo chamber."
At J Street, Farooqi felt more at home. She tells me she thought she could best effect change from within a group like J Street, where she might come upon differing views. In her words,"I thought there was more value in actually engaging with people I disagreed with. And learning from them."
Farooqi says one of J Street's main goals this year will be to attempt to shake up the American Jewish community. She explainsJ Street U's vision as holding "the American Jewish community accountable for its role in the occupation."
Unlike many members of the American Jewish community, Farooqi's view of the conflict is free of familial or nostalgic connection to the country. She says, "I think some people grow up, and for them Israel is a very neutral place, it's where they have family, it's where they go on Birthright. And for me it was always conflict first. It was always occupation first, Palestinians first."
When Farooqi did go to Israel, for a semester abroad, her approach was analytical. "I wanted to go learn Hebrew, I wanted to actually meet Israelis, " she tells me. "For me it felt like I couldn't actually be an agent of peace if I wasn't engaging seriously with every perspective. I studied at Hebrew University in Jerusalem. And I needed that to really help me understand what life is like for an average Israeli on a day-to-day basis, with the conflict, and as the conflict doesn't affect their life day to day."
When I tell her that I visit frequently, she visibly brightened. "I was in Jerusalem this past summer," she says. "And I've been thinking about, when I was there, I think I really was like yeah, I need to come back here long-term."
That trip to Israel, coupled with Farooqi's years of research, courses with influential teachers, and careful consideration led her to believe that the vision of Israel as a Jewish Democratic state is worth fighting for—but that as it stands today, the country is falling short. "Growing up, to me being pro-Israel was associated with settlements, and the wall, and all of these things. It's much more become about supporting a Jewish Democratic state of Israel, and doing this anti-occupation work for that reason."
I ask Farooqi if she wanted to go back to Israel and she responds, fittingly, with an Arab phrase, used commonly by Hebrew-speaking Israelis: Inshallah.
Danielle Wiener-Bronner is a news reporter.