Rosetta Tharpe was born 100 years ago today—March 20, 1915, twenty years before Elvis, a decade before Chuck Berry. And she could play the rock and roll guitar better than anyone, before anyone.
Now, rock and roll has a lot of parents. Any movement so big in popular music isn't just invented by one person. But if anybody can claim the title of Mother of Rock and Roll, it would be Sister Rosetta Tharpe. Coming out of the gospel world, she was willing to cross over into playing for secular audiences, and more importantly, she just knew how to wield the axe in a way that is uncannily modern.
"She had a major impact on artists like Elvis Presley," her biographer Gayle Wald told a documentary film crew. "When you see Elvis Presley singing songs early in his career, I think you [should] imagine, he is channeling Rosetta Tharpe. It's not an image that I think we're used to thinking of in rock and roll history. We don't think about the black woman behind the young white man."
But we should! Not just because it is historical truth, but because Rosetta Tharpe is an amazing, amazing musician who was so far ahead of her time (and something of a superstar in her time, too).
"She did incredible picking. That's what attracted Elvis to her," Gordon Stoker, who led Elvis' backing band, told the documentary crew. "He liked her singing, too. But he liked her picking first, because it was so different."
G/O Media may get a commission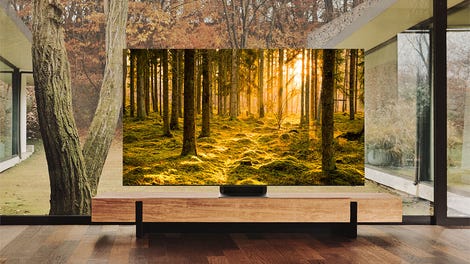 Up to 40% off
Samsung Smart TVs
Her 1944 hit "Down by the Riverside" features a solo section where she just shreds the guitar. Like, the kind of shredding Michael J. Fox's character tries to pull off in Back to the Future. And this was before the end of World War II!
Just watch her go here, at the beginning of the documentary about her life. She was a rock star before there were rock stars.
In her day, it was mostly men who played the guitar. And not much has changed, except rock guitar players are ever whiter, as the music gets farther from its roots in blues and R&B. And yet, there she is, proof positive that there was a super talented woman blowing minds a half decade before Chess Records coalesced in Chicago and a full decade before Elvis Presley ever even walked into Sun Records in Memphis.
This isn't to take anything away from later rock artists, who obviously extended the genre in ways that were good and interesting. But when we think of the pantheon of great rock figures, Sister Rosetta Tharpe should be at the front of the chronological list. Period.
Perhaps my favorite video of Sister Rosetta Tharpe, though, comes from much later, 1964, after her work (like many other blues players) was rediscovered by British rock musicians. She toured England, and for the show in question, she arrived at the Manchester stage in a horse-drawn carriage. She's nearly 50. Her hair is up. She's wearing a thick wool overcoat that was cut to drape around her like a dress. Her legs poke out the bottom, elegantly dropping into high heels.
A guitar is slung around her neck. Hundreds of cheering fans sit in bleachers. As soon as she begins to play, you know she will bring down the house.
She died in 1973. It would be her 100th birthday today, and I'm sure if she were still alive, she'd still be doing exactly this.