Flint, Mich.—Corey Luster didn't need an expert to tell her the water was bad. That was a lesson she learned as a little girl growing up in Flint.
"I've lived here all my life, and I have never played in the Flint river," Corey, who is 33 and a mother to four kids, told me as we sipped bottled water at a table at the Flint Farmer's Market. She was there that day with several of her friends and family, also lifelong Flint residents. "I have always been told to stay away from the water."
By now, you know the story of what was done to Flint's water.
The median household income in Flint is $24,000, which is half of what the average Michigan household earns. Forty percent of the majority-black city's population lives below the poverty line. Jobs are hard to come by, and have been since GM closed its Buick City plants and moved tens of thousands of manufacturing jobs out of Flint—and out of the country.
G/O Media may get a commission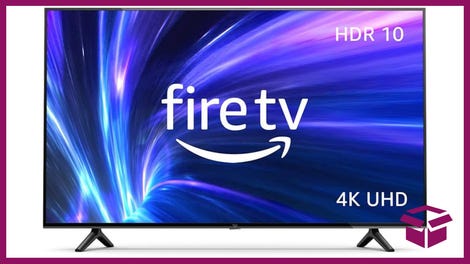 42% Off
Amazon Fire TV 50" 4K Smart TV
In 2014, under emergency management and Republican Gov. Rick Snyder's austerity program, Flint switched water sources from Detroit's system to the Flint River. The change was approved as a way to cut costs while the city built its own water pipeline to Lake Huron.
"Everyone's first thought when we heard was: They're trying to kill us. And that is the raw, honest truth," Corey said. She shook her head, which she had covered in a warm knit beanie. "They've drained that water before and found bodies and cars in it."
The water that came out of Flint River was polluted and corrosive. Untreated and improperly tested, lead from the city's aging infrastructure leached into what came out of Flint's taps. As a result, residents drank water that in some cases had such a high lead content that it was classified by the Environmental Protection Agency as hazardous waste. But state officials still insisted it was safe to drink.
Even after Flint switched back to the Detroit system in January, the water that continues to flow through the corroded pipes is undrinkable. And after everything that's happened over the last two years, many residents I spoke with refuse to even touch it.
Which is why Corey, like the other mothers I met in Flint, trudges through the snow to bring filters and fresh water to her neighbors. It's the reason these women show up at every protest, every city meeting about the status of the pipes being replaced. It's why they have taken on the role of government watchdog as a second, sometimes third or fourth shift.
Because the state poisoned their kids.

💧💧💧
When I met Melissa Mays, a 37-year-old mother to three boys with floppy brown hair, she was sitting at her dining room table, which was covered in papers, an open laptop, and a cheap-looking refillable water bottle.
"They gave this to me at the doctor today," she laughed, holding up the flimsy plastic container. "What am I supposed to put in it?"
Melissa's name came up a lot with the people I spoke to in Flint because she has become one of several women serving as a public face in the midst of the crisis. She was one of the first women to publicly sound the alarm about the lead in the water, in part because of the effect it was having on her sons. Like so many other kids in Flint, they were breaking out in rashes, falling behind at school, and complaining of bone aches that woke them up at night.
Now, as one of the founders of the grassroots organization WaterYouFightingFor, she has come to act as a liaison between Flint and the national media, making several appearances a day. In fact, while I was writing this in my hotel room, I flipped on the TV and saw her face on CNN.
She also helps coordinate efforts to send Flint water and other supplies, directing massive shipments of camp showers and filter systems to where they need to go.
Her work has taken on a national profile, but most of it is still just feet-on-the-ground stuff in Flint.
"My husband and I used our tax return money last year to print out 4,000 door hangers," she told me. "Two color, both sides." She pulled one of them out of a stack and handed it to me.
The sturdy, colorful printout looked like it could have been a flier for a punk show—Melissa used to be a promoter for metal shows, and her husband is an artist—but it was actually a list of the tell-tale signs of contaminated water.
Does your water have a funny or bad color, smell, or taste?
Does your shower or bath smell like chlorine or a stagnant pond?
Your water is not safe.
It included phone numbers for health department officials, members of the state legislature, Michigan's congressional representatives, the governor's office, and the Environmental Protection Agency.
"Four thousand of them," she said, half proud, half bewildered. "My husband, my kids, a couple of friends of mine, and I went door-to-door."
She laughed a little and called out to her three boys, all splayed out on the couches in the next room. "Didn't we boys! You guys like doorhangerin', don't ya?"
Cole, 11, her youngest, looked up from a video game. "Kind of, yeah!" he said brightly.
"When it's not cold outside," Christian, her 12-year-old, added dryly. A perfectly tween response.
While we talked, Melissa's oldest son, Caleb, brought her a cup of coffee. She tipped the mug so I could see inside. It was pure white. "This is how I take my coffee," she laughed. "It's all creamer. I hate the taste of coffee, but I love caffeine."
Melissa was funny and cutting as she talked about the work she does, about her anger at the institutions and people that betrayed her family and her community. She was also tired. Everyone in Flint was tired.

💧💧💧
"We should be paid for this work," Gina Luster, Corey's sister and another mom who spends most of her waking hours organizing water deliveries, caring for her seven-year-old daughter, and attending council meetings, told me after she finished her lunch at the Flint Farmer's Market. "I'm setting up a GoFundMe just to pass out this water, spending money on gas I can't afford to drive it around."
She bobbed her head rhythmically as she recounted the work of an average day—carefully tending to her daughter Kennedy's skin, scarred and broken out in rashes from the lead, getting her to school, checking in with neighbors' water supplies, planning for upcoming meetings with the city council and department of education. The rhinestones lining the front of her baseball cap shimmered as she spoke.
Gina is also part of a chain of communication that keeps Flint up on the news from the city, from the county, from Lansing, and from D.C.
"We update ourselves. The community goes by what me and people out in the streets are saying," she explained. "They don't even care what Lansing is saying."
At the local meetings Gina attends, when she isn't talking about getting water and healthy food into the community, she is talking about mental health.
"We need professionals in the schools immediately talking to these kids," she said. "Our babies are terrified. They are not only asking if they're gonna die, they're asking questions like, Is my hair gonna grow back? Is my skin going to look like this forever? And I don't know the answer to that.
"My daughter is now seeing a behavioral specialist because she's having anxiety attacks," she continued. "The water crisis is on every station. What are we going to do for these kids besides just loading them up with bottles of water? That is not the answer."
It's a frightening time, but Gina is lucky, she said. She has family all around her in Flint. In fact, I was introduced to Gina and Corey because their father, Veo, and I shared a table while we ate barbeque from the market's food court.
Between bites of ribs, he asked me what I was doing in the city. When I said I was talking to moms who were active in the clean water movement, a big smile appeared on his face and he pointed to Corey, who was laughing with her sister nearby: "You should talk to them."
Corey said she felt fortunate, too. Her kids—Emmanuelle, 14, Eeshyia, 13, Erinn, 11, Renee, 9—are resilient, and have become active in different ways, from attending meetings to handing out water.
"My first initial thing was to spaz out, like, they're poisoning us," Corey recalled with a laugh. "But my kids, they're like, Well, I've still gotta get up. I've still gotta go to school. I still want to go to this play. It's amazing to me that they're able to change their lifestyle.
"They're strong kids," Corey said, beaming. "Flint kids are strong kids, I'm gonna say that first."

💧💧💧
At the Wildroot coffee shop in Flint, a cafe with tables bathed in light reflecting off the snow, Desiree Duell pulled out her phone and started listing the names and numbers of other women I should talk to before I left the city.
All of them, she said, were essential to the movement sustaining Flint right now. I left with similar lists after basically every conversation I had that day.
While Desiree and I talked about her work as an activist and an artist, her 10-year-old son David read a National Geographic and sipped hot chocolate.
"It's very hard to balance these things and do it all," she said of parenting in the midst of a human rights crisis. "I don't have childcare. So whatever happens, wherever I need to be, David has to come with me."
When it came to the struggle in Flint, Desiree told me something I heard a lot that day: "The water was just a symptom of something bigger that has been happening for a long time." The water needed to be clean, yes, but the jobs in the city also needed to pay fair wages, the schools needed to offer kids a good education, the health care needed to be accessible and affordable.
Desiree, like each of the women I spoke to, also said that in lots of ways, they were glad that their kids had become part of the movement in Flint. It was an education, a lesson in civic responsibility.
But their place in the crisis is also incredibly painful. And the future can feel uncertain.

💧💧💧
It was late in the evening when Melissa and I finished talking. As I started to gather up my things, I asked a final question about her kids. How she has managed to keep them so engaged and upbeat in the midst of such a frightening time.
For the first time that evening, Melissa lowered her voice to a whisper.
"When I try to answer their questions, Why did this happen to us? Why did they do this to us, mom?" she told me, a look of heartbreak and rage on her face.
"That pisses me off," she said. "These kids, it's not just us, asking, Why does this hurt? When is this gonna stop hurting? And I have no answers. Absolutely no answers whatsoever."