Husband and wife Brad and Amy Herzog were abruptly fired from their day jobs one day after they started a Kickstarter campaign for their satirical picture book "D is for Dump Trump: An Anti-Hate Alphabet Book."
The couple calls the book "a picture book for adults about a man child." It features 26 alphabet poems about Trump, including "B is for bully," "L is for lies," and "U is for unprepared."
Brad and Amy Herzog, who spent over 15 summers as traveling spokespeople for the Recreation Vehicle Industry Association, lost their jobs just a day after RV Daily Report editor Greg Gerber wrote an op-ed calling for the RVIA to cut ties with the Herzogs.
"For an organization that routinely walks the tightrope of political correctness, it seems rather odd that RVIA would turn a blind eye to such a divisive book in this politically-charged environment," Gerber wrote.
Brad Herzog said he thinks they lost their jobs in the most "Trumpian" way possible.
G/O Media may get a commission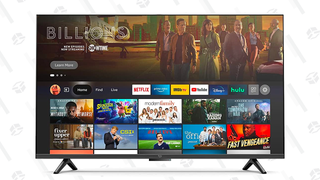 22% off
Amazon Fire TV - 50" Omni Series 4K - Early Access Deal
"It's tragically ironic that we put out a little satirical picture book about the dangers of reactionary rhetoric and stifling freedom of expression and ignoring facts," Brad Herzog told Fusion. "And we feel that those were the very same tactics that were used against us that resulted in us losing our jobs."
I called up Brad and Amy Herzog to discuss the process of conceiving the book — and making it after they were fired.
This interview has been edited for length and clarity.
When did you first get the idea to make a picture book about Donald Trump?
Brad Herzog: Back in the spring as the Trump campaign started to find unfathomable success, I started scribbling some satirical poems about what I felt are the dangers of a demagogue running for president, and I've done more than a dozen alphabet picture books for kids that contain 26 rhyming poems, one for each letter of the alphabet, so I decided to use that formula for this satire.
And the first update that you shared on that Kickstarter was some pretty surprising news about your jobs in the RV industry: you got fired. Can you explain what happened?
BH: We received an email from the powers that be at the RVIA saying, "In light of the negative publicity, we need to take action, can we talk on the phone?" And I responded saying, "Well, we're about to do a TV interview in Phoenix, can we talk afterwards?" And he said, "Sure." So, he let us do another happy-faced, all-about-RVing morning TV interview, and then 15 minutes later we got a phone call saying that our contract was being terminated, that we had to cancel our next five TV interviews, and that we would not be receiving the last half of our payment that our contract called for. So within 24 hours, having not discussed the matter with us, nor seen our book, we were abruptly terminated.
It's a conservative industry, and we've known that for a long time, but that didn't stop us from promoting the industry. We didn't care what their politics are, but as soon as our politics became known, we were suddenly deemed toxic.
Fusion reached out to RVIA for comment on these specific allegations, and a RVIA spokesperson said they will not make any comments beyond what they have already said in a previous public statement. "The Herzogs have been long-time supporters of our industry and the RV lifestyle, and the decision to suspend the 2016 tour was difficult," RVIA wrote in a press release from July. "The Herzogs' campaign to merchandise a political book that does not meet the nonpartisan position of our organization distracted from our core value of political neutrality … The decision to suspend the tour was based solely on the tone and content of the Herzogs' book.  Regardless of the candidate or political affiliation depicted, we would have arrived at the same decision."
What kind of impact did that firing have on your personally?
BH: We were angry at how we were treated after 17 years of loyal service. We were sad because we truly loved our summer roles as spokespeople and tried very hard to do a good job. We were very worried about our financial future because we had to build our years around these summer tours, so it amounted to more than half of our annual income, and we were very disturbed by how the whole process played out, which I believe happened in a very sort of "Trumpian" manner.
Can you explain what "Trumpian" means to you?
BH:  It's ignoring facts. It's using innuendo as a weapon. It's inflaming the uninformed. It's stifling freedom of expression. It's being reactionary rather than contemplative about a decision. It's very, very ironic, sadly so.
How did people respond once you reached out to the Kickstarter community?
BH: At the time that we were fired, we had about 50 backers on Kickstarter. By the time our campaign ended on August 4, we had 975 backers and we had raised more than $41,000 toward publishing "D is for Dump Trump." And these were backers from 44 states and 11 foreign countries.
Amy Herzog: It was very validating. It felt like people were standing with us. I don't think [the project] would have gotten that kind of exposure if we hadn't lost our jobs. I think people cared about the message of our book, and I think people cared about the bigger picture, which was that people should be able to speak up about these kinds of issues without fear of losing a job.
Your goal was $7,500, and you raised more than five times that amount. Was that kind of success also helpful in alleviating some of your financial stress?
BH: A very large portion of our Kickstarter earnings go toward printing the book, shipping the book, so financially it was nice, but it was certainly not nearly the kind of windfall that would make up for the loss of a primary source of income. But on an emotional level, it felt like a million bucks.
I want to talk now about the contents of the book itself, and the process of writing it. You've written these alphabet books for children before, how did you go about writing about Trump in that style?
BH:  It's satirical, so there's some humor involved, but it's humor with underlying profundity, and that was the goal, and I really wanted to try to cover all the bases about the different reasons why so many Americans are terrified by the prospect of a Donald Trump presidency, from "D is for divisiveness" to "M is for misogyny," to "X is for xenophobia." With Donald Trump, I could've gone through about five more alphabets.
And Amy, what was the process of illustrating the book like?
AH: I've never illustrated something before. I was pretty much armed with what I had known in art class so far, but in terms of approaching the art, I did have some ideas. I figured I needed to keep it really simple, since I hadn't illustrated before, and also because it was satirical and kind of a play on a children's book. I think in the back of my mind, I had a style kind of like "Goodnight Moon."
And how did you choose to depict Trump?
AH: For the most part, I figured I need to come up with my own take on him. If I could figure out the profile and I could figure out the front shot, then I think I kinda have it. I kinda started with the hair. I knew how I wanted to do the hair. I knew I wanted to do these kind of thick lines …
The concepts for the cartoons were kind of Brad's ideas, so he would say "I think we should do a dumbing down of America, we'll make it stacking dolls, like those Russian dolls." So he would kind of have that general idea, and he'd have ideas on who the four dolls were, and I would take it from there, and embellish it. We didn't plan the images to necessarily go with the poems but once it was all said and done, for the most part, every one of the poems seemed to match up with an illustration.
This project must have been very important to both of you to stand by it despite losing your jobs. Why was that?
BH: We feel very strongly about the dangers of Donald Trump, and we also feel strongly that if you believe something, you should stand up for it. We decided that we weren't going to stay silent. We weren't going to back down, and we're proud of ourselves for putting ourselves out there to make a statement. We feel we were very wronged by the whole process regarding our jobs, but we also feel that we have the right perspective about fighting the good fight, and we're gonna keep doing that.
"D is for Dump Trump: An Anti-Hate Alphabet Book" will be available through Barnes & Noble starting September 15. It is available now on Amazon, and through the Herzogs' publishing company, Why Not Books.