In the upcoming documentary Straight/Curve, model Georgina Burke says:

"The day we don't get excited to see a plus size model in a magazine, is the day we've made it."
We aren't quite there yet.
But: The past few years have been groundbreaking for plus-size models in the fashion industry. They have been more outspoken: Tess Holiday started the hashtag #effyourbeautystandards to help showcase beauty in all shapes and sizes on social media, while Marquita Pring has been vocal about preferring the term 'curvy'. They have been getting more work: Ericka Jean Schecnk was featured on the cover of Women's Running magazine and Robyn Lawley was the first plus size model to be featured in Sports Illustrated's Swimsuit issue.
Straight/Curve plans to help plus size models break even more ground. The documentary hopes to help redefine beauty standards and question the mindset behind unrealistic beauty expectations. It focuses on the experience and pressure of being a plus size model in the fashion industry and mines insight from the models themselves as well as magazine editors, photographers, designers, agencies and clothing brands. While the Straight/Curve documentary won't be released until next fall, the women behind the film are using this season's (as well as next season's) New York Fashion Week as an opportunity to document the experience of plus-size models, from following plus-size models Ashley Graham, Sophie T Simmons and Emme, to covering Serena Williams and Adam Levine's fashion shows.
We talked with the women behind the documentary—Jenny McQuaile, the director, and Jessica Lewis, the producer—about the modeling industry, the term 'plus size', and how they hope their film will educate viewers.

G/O Media may get a commission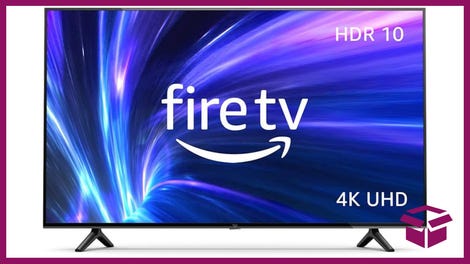 42% Off
Amazon Fire TV 50" 4K Smart TV
What was the defining moment, when you realized you wanted to make this documentary?
Jenny McQuaile:  It really took shape and form when I started meeting with people from the plus size community in NYC earlier this year. It became apparent to me that this story has to be told, and it has to be told now. We are in a critical and pivotal point in the fashion industry—real change is happening—and Straight/Curve is going to follow it every step of the way. Women everywhere are finally standing up and demanding a change. They want to see themselves represented in magazines, on the catwalks and in the media—and big companies and brands are finally starting to listen.
Jessica Lewis: The industry is in a great state of flux right now. It's diversifying from many aspects, at a very rapid pace, and I want to catch this moment in time! I think ultimately what's happening is much bigger than just the fashion industry or media; it affects women and their perceptions of themselves and their bodies—on what some would say is a global scale—and goes far beyond physical appearance. I see what's happening as a great educational tool that brings many topics surrounding health, the human psyche and beauty to the table and encourages honest conversation about these topics. It sheds light on the positive aspects of the fashion and media industries and empowers women everywhere.

Jessica, you started out as a straight size model, but took a break and came back as a plus size model. Why did you decide to make the switch?
JL: I decided, after so many years of manipulating my body for show seasons as a straight size model, that I didn't want to do that anymore. I took some time away from the industry and started eating healthfully again—and my body naturally put on weight. I had been malnourished for so many years that I think it just wanted to heal itself.

What has been your experience with both?
JL: My experience as a straight size model was very superficial. It was all about looks and physical beauty at any cost, and the branding of a model usually stopped at that. It truly wasn't until I encountered the plus size industry that I saw models who had boundaries and bottom lines—of course they are attractive women, but the fact that they had a voice, and knew how to use it, to evolve not just the fashion industry, but beauty ideals in general, was revolutionary to me and very inspirational. To this day I believe these women continue to open doors and create new, inclusive ideals on a day to day basis.
There seem to be more plus size models featured in fashion editorials and advertising, but not so much on the runway or high fashion. And when there are plus size models in campaigns or editorial, often they are naked or wearing lingerie. What are your thoughts on that?
JM: There are more plus size models being featured in fashion editorials and advertising and that is a positive achievement. We are moving forward, but we still have a ways to go. We need to see more curvy women, more diversity and inclusivity on the runway and in high fashion. In the past we saw a lot of curvy women being featured in their underwear or naked in editorials, to show off their bodies, but in a pointed way. Thankfully, we are starting to move away from this trend, as it objectifies a woman's natural shape. The day we see women of all shapes and sizes on the pages of the same magazines, wearing the same designer, and side by side is the day we have achieved our goals. More brands and clients need to start booking plus size models. Lauren Chan, of Glamour magazine, says in our Straight/Curve teaser that the demand is there to see plus size models in magazines, the models are available at the top agencies, all we need are the sample sizes: the clothes to fit them, to get them in the magazines.

 How do you feel about the term plus-size—especially since a plus size model isn't the same as a plus size woman?
JM: The term 'plus size' is just an identifier. It is a way for clients to distinguish between models' sizes—and book them accordingly. The term 'plus size' is not meant to translate from the fashion industry into society. THIS is when it becomes a problem. Women in society are not meant to feel burdened or attacked by the 'plus size' label. It has started to have negative connotations in society, when it really is only meant to be a fashion industry term. If we treat it like such then maybe the stigma will go away.
In a mainstream world that's somewhat set-in-stone regarding ideas of beauty, how do you hope to change people's mindsets?
JM: The media play a huge role in defining society's beauty standards. I think true change can only come when the fashion industry changes, and the media, in turn, reflects this change. For a long time, we have seen stick-thin women in magazines, and it is hard to change this mindset. The media are playing catch up with what the public are demanding. With the emergence of social media, people around the world now have a platform—a voice—to demand change, to ask labels and designers for that they want to wear, to demand of magazines and the media a variety of women on their pages. The media are starting to make the discussion surrounding body image less toxic, slowly but surely. We need to stop pitting women against each other, we need to stop talking about plus size promoting obesity, we need to stop accepting designers' excuses of why they don't make plus size samples, we need to demand answers of the key people. This is what Straight/Curve is doing. Documentaries like ours, with the backing of the media and the fashion industry, is how we will change people's mindsets.
 What are your next steps with Straight/Curve?
JM: Straight/Curve will be released in fall 2016. We want to follow two fashion seasons, to really give a sense of capturing this historic moment in time in the industry. It won't be just a movie. We are hoping to use Straight/Curve as an educational tool for young women and men around the world. We want to roll it out in schools, to open the discussion on body image and beauty. We are already in conversations with governmental and non-governmental organizations. We see the potential in Straight/Curve past just a documentary. We have the platform to make meaningful change and really alter society's ridiculous standards of beauty.

This interview has been edited and condensed.
Tahirah Hairston is a style writer from Detroit who likes Susan Miller, Rihanna's friend's Instagram accounts, ramen and ugly-but cute shoes.