PALM SPRINGS, Calif.— Before Guillermo Hernandez went to the courthouse to face a judge for a trespassing charge, he kissed his fiancé goodbye. He was nervous but hopeful he would back be home a free man, because the district attorney had recommended no jail time.
The judge followed the district attorney's recommendation and didn't sentence Hernandez, 21, to any prison time. But as he entered an elevator to leave the courthouse, two federal immigration agents in plain clothes arrested him. He's been locked up in an immigration detention center since January 25th.
Just after 12:30pm on Monday, Hernandez kissed his partner Tom Swann once again in what immigration officials say is the first same-sex wedding at a U.S. immigration detention center.
The ceremony, held at the Imperial Regional Detention Facility, lasted less than five minutes. Press officials for Immigration and Custom Enforcement denied Fusion's request to be present at the wedding.
G/O Media may get a commission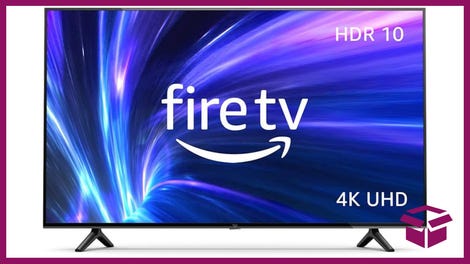 42% Off
Amazon Fire TV 50" 4K Smart TV
"I'm proud to know we're doing something groundbreaking," Hernandez said in a telephone call from the facility in Calexico, Calif., about a three-mile drive away from the U.S.-Mexico border.
"I love Tom, and even though we're going through this tough situation, we're going to overcome this and be together forever," Hernandez said.
Immigration officials said this is the first time a same-sex couple requested to be married at a detention facility.
Hernandez's partner Tom Swann, 58, planned on wearing a navy blue suit, a white shirt and a red tie. Hernandez had to wear the orange jumpsuit the detention center provided.
"It will be the happiest day of my life," Swann said in an interview this weekend.
Like many other brides and grooms, Swann had the wedding day scheduled out in detail, hour by hour. He left his house near Palm Springs at 7 a.m. so he could arrive at the detention center by 9 a.m. Once Swann arrived, he had to get Hernandez to sign a notarized form indicating he cannot request a wedding license in person because he can't leave the detention center. Then Swann picked up the marriage license. The wedding ended up taking place shortly after 12:30pm local Calexico time.
Hank Kuiper, the mayor of nearby El Centro, who officiated the ceremony, said the security process to enter the detention center took longer than the actual ceremony.
"It's supposed to be a short and sweet ceremony, no speeches," Swann said in anticipation this weekend, sitting in his home at the same dining room table where Hernandez asked for his hand in marriage. The couple had scheduled their wedding for February 14th at a Palm Springs golf course, but those plans were scrapped when Hernandez was detained.
Swann says he couldn't wait any longer to marry Hernandez, so he wrote to the warden at the detention center to see if they could get married at the facility.
"We enjoy being together, and he is the greatest thing that has happened to me in 28 years," Swann wrote to the warden in a letter obtained by Fusion.
"I used to be so lonely and depressed; Guillermo makes me feel young and healthy again. He is a dream come true," Swann wrote in the letter.
Until recently Hernandez was protected from deportation under President Obama's Deferred Action program which grants immigrants who entered the country before their 16th birthday temporary legal status for two to three years. Hernandez lived in Mexico until he was 7 years old before moving to Southern California. He graduated from Palm Springs High School in 2013.
But Hernandez wasn't able to renew his temporary legal status because while he was protected by Deferred Action he got into some trouble.
To be eligible for Deferred Action applicants must not have any felonies, significant misdemeanors, or three or more misdemeanors.
When Hernandez was 20, he was charged with trespassing for entering a casino when he was underage. When Hernandez turned 21 he went back to the casino and he was charged with trespassing again because he violated a five-year ban of entering the premises. Then he was charged with a third misdemeanor when he was caught with methamphetamines. He was also charged with a felony when he says he unbeknowingly became a passenger in a stolen car.
Swann points out none of Hernandez's offenses were violent crimes. President Obama, who has deported more immigrants than any other president, says his administration prioritizes "criminals, gang bangers, people who are hurting the community" for deportation. But that's not exactly the case for Hernandez or most people who are deported. A 2014 New York Times analysis found two thirds of the nearly two million deportation cases involve people who had committed minor infractions, including traffic violations.
Swann's family was against the marriage because they were concerned Hernandez, 21, was too young. His sister has now come around and says she hopes Guillermo will take care of her brother.
Swann, 58, says what Hernandez needs is a mentor. Swann was able to convince the district attorney to recommend Hernandez attend drug rehabilitation instead of eight months in jail for his latest violation.
"I would say right now I'm the perfect age to be a mentor because I have experience on how to live a better life," said Swann, who was born and raised in Florida. After serving in the Marine Corps for four years, he was in the Navy reserve for two more years. He was deployed in the Philippines for six months.
Swann is also leader of a number of progressive political groups in his community. He's devoted his adult life to lifting the ban on gays in the military, health care reform, and peace since the Iraq war started. He founded a group that in 2001 erected what is believed to be the first gay LGBT memorial in the country. Since meeting Hernandez through a mutual friend in May last year, Swann also become an immigration activist.
"Guillermo is my joy. I am committed to seeing him become very successful," Swann said.
Swann has always had big dream for himself and wanted to be president one day. His office walls are covered with portraits of notable political leaders like MLK and JFK. He has pictures of himself next to California Gov. Jerry Brown and Rep. Barney Frank, D-Mass., an openly gay member of Congress. Below all the frames Swann has taped a photograph of him and Guillermo taken in the dining room.
But his dreams were cut short in the 1990s, when he was diagnosed with AIDS and given a prognosis of six months to live. Today he lives a relatively healthy life, but the diagnosis has stayed with him. More than two decades after his diagnosis he still says he has AIDS even though he has an undetectable viral load of the HIV virus.
"I'm always reminded that at one point I had AIDS because I lost my eyesight in one eye. It's my daily reminder of how blessed I am to be alive," Swann said.
He's lost complete vision in one eye due to complications with the AIDS virus and says he can only see the big E in the Snellen eye exam chart with his working eye.
Hernandez not only became Swann's life partner; he also took on the role of caretaker. Hernandez took Swann out on walks around the neighborhood, kept the house clean, and reminded Swann to take his medicine. He also kept Swann happy. At this point Swann says he's considering moving to Mexico if Hernandez is deported.
Swann recently submitted a 13-page memo alerting immigration officials of the hardship that he would have if Hernandez is deported. He says he hasn't heard a response from anyone.
In the meantime while he waits for a response to his letter, he's already changed the sender's name in his emails. He is Tom Swann-Hernandez.