Early on during his Thursday-night set last week at the Music Hall of Williamsburg, Shamir introduced a song by saying, "The next one's called 'Hot Mess.' It's an autobiography." During the course of the song, an upbeat disco-pop number from his new album, Ratchet, he let down his hair and began head-banging, to frenzied applause from the sold-out crowd.
Self-deprecating stage antics aside, Shamir is, at twenty, the up-and-coming voice for a new queer generation — joyous, unselfconscious, and optimistic about human nature.
Shamir describes his Las Vegas childhood as untroubled by the kind of bullying that would seem inevitable for someone who defines himself as having "no gender, no sexuality, and no fucks to give." His fans in Brooklyn seem attracted equally to Shamir's music and to what he represents. As one fan,  Bernie Leed put it, "This is everything you would want for the future."
G/O Media may get a commission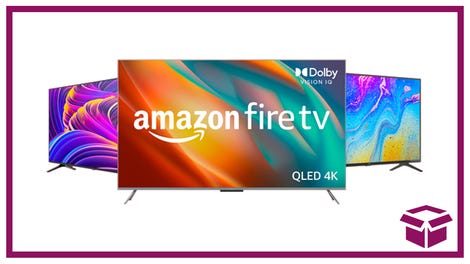 Ooh. stunning.
New Amazon Fire TVs
Lluvia Albarran said that immediately after hearing Shamir for the first time, she bought tickets to the show. "Usually I never go to shows by myself, but I thought, 'Fuck it, I'm going to go no matter what,' and then, whoever else will just go with me, or not, I don't care."
Carlos C. Molina was the first person on line. "I love Shamir because there's no one else like him."
Adjua Gargi Nzinga Greaves was reading Kevin Young's The Grey Album while waiting, a pen propped in her head wrap. The book was research for "a thesis making an account of a performance I did recreating the experience of an MFA outside of an institution. It's a durational performance, figuring out what it means to embody an institution, and then also to be generative in that mode." Her interest in Shamir sounded a similar note of independence: "I heard 'On the Regular' in December or something, when everything was horrible, and the police were murdering people, and the bleakness of the world was very apparent and loud. And his was a very strong, strange vision. And I love how much he trusts himself, and I love how he's trusting himself in a vacuum."
On her clothes, she said, "Lately I've been wearing black, because things are fucking serious. And today I wore gold and pink as well, because I feel that beauty is really serious too."
Left to Right: Chloe Pinkney, Kali Villarosa, Teddy Braziunas, Wen Zhu. Kali says, "He's such a character. It's so great he can be open about himself." Chloe: "He's dope as fuck."
Diego Sanchez-M (left) and Zach Ligas. Zach said, "I'm super into Shamir. It's just ass-shaking, androgynous, fun, weird music to dance to."
Diego Sanchez-M: "I wore this because we're going to a party called Straight Acting that Zach is hosting after this, at This n' That. We went vintage shopping together at Urban Jungle, and we got some skirts together."
Zach Ligas's hemlock tattoo, in honor of his restaurant, Hemlock, that's set to open in the fall.
Bernie Leed came to the concert with his friend Cheno (images below). "I've loved Shamir for a year and a half, but that New York Magazine profile about him made me love him even more. Because they were like, 'He's the perfect type of young adolescent,' and I was like, 'You know what? He is.' This is everything you would want for the future, everything you would hope our youth would be. I don't even know him, it just made me happy, and hopeful."
Cheno: "I'm the production manager for this event publisher called the Culturevore, and we have a party tonight called 'Sideshow' and it's mermaid-themed, so I'm like, 'What can I wear that is Shamir ready and willing, and also, like, me running the sound of all the performers tonight?"
Bernie: "Let me interject by saying, I obviously invited her to this, and she did not invite me to that. It's okay. I'll get my flippers later."
Zavé Martohardjono: "I'm a terrible sewer, but I made these pants. It took me a really long time, because I just really couldn't get it right—I tried about six different times, and they finally happened, just a couple weeks ago."
Eleanor Kagan: "Well, Shamir is like ultimately stylish, so you have to dress up to come to his show." Kagan was wearing a necklace which was a birthday gift from her mother two days ago, and a black Apple Watch. "I'm still trying to decide whether it's like, normal or douchey. I'm actually trying to use it to disconnect myself from being on my phone all the time. And that's what I think I like about it."
Melissa Johnson: "My style is mostly influenced by the '80s — Less than Zero, Madonna, the Fresh Prince of Bel Air."
Melissa Johnson's tote.
Alex Nguyen (left) and Chase Rab. Nguyen said, "I love that Shamir is merciless in his approach to representing himself."
Anna Khachiyan wore a Pleats Please coat: "My style inspirations are Richard Lewis the comedian, and Russian post-punk. Very Jewish."
Brian Basvert: "Today, I really wanted something that would combine the Shamir essence with the Williamsburg aesthetic. Something that felt grunge, but a little luxe. So that's why I paired something that was really distressed with something that had a lot of shine to it."
"The Shamir aesthetic… It's cool, it's progressive, it's slim, it's unexpected."
Alexandra Serio: "I didn't wash my hair, so I had to wear a hat. I wear a lot of black, because it's easy, and it looks cleaner than it usually is. I'm a huge Shamir fan. I like his earnest songwriting ability, and I like his ability to be himself wherever he is."
Tara Chacón was the frontwoman for the night's opening band, Soft Lit. She's Shamir's label mate at Godmode Music. "I ended up being one of his original backing singers, and we went on tour in Europe last December, and that was an incredible experience, seeing him settle into his life performance persona, and dealing press and stardom and fame and all that. And six months later, being here as his opener as been amazing. And he's really learned how to own it. This is what he's supposed to be doing. He is genuinely, through and through, an incredible artist and person, and every time he performs he shares that energy with everybody in the room."
Tara Chacón's white nails, silver Timex, and patent leather handbag.
Photography by Molly Dektar.
Molly Dektar is from North Carolina. She has an MFA from Brooklyn College and lives in Brooklyn.