Before Trayvon Martin's death, Lucy McBath had never even heard of the NRA.
But after the Florida teen's shooting became headline news in 2012, she started hearing about it, and about a law backed by the gun lobby called Stand Your Ground. So she decided to talk to her son, Jordan Davis.
"I distinctly remember telling him: Jordan, nowadays, people will take out a gun and they will shoot you," McBath recalled in a recent interview, referring to Stand Your Ground's expansion of self-defense rights. "You have to be very, very careful."
Just nine months later, Jordan was dead, shot by a 45-year-old white man annoyed by the loud music coming from the car Jordan was sitting in at a Jacksonville gas station. He was only 17 years old. After two trials in which Stand Your Ground was invoked, Dunn was sentenced to life in prison.
In the years since, McBath has gone from not knowing the National Rifle Association to being one of its fiercest public critics. Now a spokesperson for two major gun safety groups, she says she's channeling her grief and anger into activism. And while she fights for things like universal background checks and the repeal of Stand Your Ground laws, she's focusing much of her attention on a group she says is key to reform: black women like her who have seen the horrors of gun violence firsthand.
G/O Media may get a commission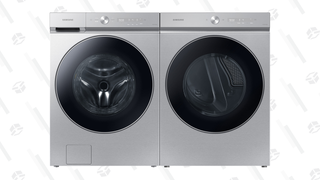 Get $500 back in credit
Last Chance: Samsung Bespoke AI Washer and Dryer Preorder
Among her peers, McBath says her son's death is all the introduction she needs. When people ask her why she looks so familiar, she said, "All I have to say is, I'm the mother of the young man who was shot dead for playing loud music in his car."
Just last week, she returned to Florida, where she spent so many months sitting in courtrooms during Dunn's two trials, to testify before the state legislature about a proposed expansion of the state's Stand Your Ground laws. The expanded measure seeks to increase prosecutors' burden of proof for convicting anyone who claims self-defense. Should the measure become law, it would assume that self-defense is, by default, the truth, leaving a prosecutor to prove otherwise. As a result, convictions will be that much harder to achieve—and the state will have to reimburse defendants up to $200,000 for their legal fees. In other words, the Stand Your Ground expansion would say you can shoot someone with questionable justification and get paid for it.
The law "encourages Floridians to shoot first and ask questions later," McBath told the committee in her testimony. "This is a dangerous bill that would make it even harder to protect communities from gun violence."
There are 22 states with Stand Your Ground laws on the books, though since the first law went into effect in 2005 in Florida, 13 states have since taken action to repeal or reform their Stand Your Ground statutes. A 2013 study by Mayors Against Illegal Guns, a part of Everytown for Gun Safety, (McBath is a spokeswoman for the latter) found that justifiable homicide rates increased by 53 percent in states that had passed Stand Your Ground laws, while they decreased by 5 percent in states without these laws. In Florida alone, the justifiable homicide rate tripled after its passage of its initial Stand Your Ground law.
Supporters say those statistics prove their point: the law protects people who act in self-defense from getting convicted. "You shouldn't have to choose between being attacked and going to jail," said presidential contender Jeb Bush earlier this year. (Bush signed Stand Your Ground into law as governor of Florida in 2005.) The NRA did not respond to a request for comment.
But the cost of empowering citizens to defend themselves is that bad guys can feel empowered too. In a eulogy this weekend for Corey Jones, the musician shot by a plainclothes police officer in Palm Beach Gardens last month, Rev. Al Sharpton lamented Florida's Stand Your Ground law as an injustice. "Where were Corey's rights on that night?"" he asked.
"I remember this rage," McBath said in an interview recalling her only child's death. "I screamed. A primal scream just coming out of me because I felt like everything I did, it didn't matter. It didn't matter. I felt like I didn't do good enough. I didn't protect him enough."
For that reason, McBath continues to advocate. She is motivated, she says, by legacy of the work her father did in the civil-rights movement and her exposure to the movement as a child, attending marches and rallies.
"It was important to me to channel my pain and my angst and my anger," she said. "Because I did receive justice, I have more accountability to help other people in this country receive justice."
Her message resonates acutely in the black community, where the leading cause of death among African-American teens ages 15 to 19 is gun-related homicide. According to the NAACP, African-American children and teens accounted for 45 percent of all child and teen gun deaths in 2008 and 2009 – but were only 15 percent of the total child population.
"Gun violence in the United States has always been a minority issue, sad to say," said McBath. "But the thing about it is that gun violence in the minority community has always been something that we've been dealing with. Only now has it become a national issue."
McBath believes the issue of gun safety is not only uniquely a women's issue, but a black women's issue.
"They are mobilizing," she said. "Not necessarily within the Black Lives Matter movement, but it's all of course a part of Black Lives Matter. A lot of [black] women have problems finding funding to continue to do the work. But trust me—they are doing the work."
In fact, she sees similarities between the women on the ground in the gun safety movement and the women who came before them in the civil-rights movement.
"Women have always been a driving force in any movement of change in this country. Whether it be pro-life, drunk driving, the tobacco industry. Voting rights. Civil rights….We understand that at our core, we are the protectors. It's not the man who is the protector. It's always the lioness who protects and serves her family unit. That's at the core of our nature."
As McBath and other gun safety advocates anticipated, the Stand Your Ground expansion sailed through committee. But she was "determined that no matter what, they were going to hear me." The next legislative session begins in January, when hearings will resume.
McBath will be paying close attention. "We're a whole coalition of a broad spectrum of people from all over the country who are standing up," she said. "We are a force to be reckoned with. And I'm just saying – the NRA is going down. I'm just saying. They're going down. I have to be honest. They're no longer going to keep us beholden to their extremist ideas and opinions and strategies. Not going to happen. Not on our watch."
Jen Gerson Uffalussy is a regular contributor to Fusion. She also writes about reproductive and sexual health/policy for Glamour, and television for The Guardian. She lives in Atlanta.