NASHUA, N.H. — Lindsey Graham is the first to admit he's part of the problem. At a gathering of Republican presidential hopefuls, Graham, the senior U.S. senator from South Carolina, rattles off the statistics. In 1950, America's workforce boasted 16 people for every retiree. Today, that ratio is just 3-to-1. In 20 years, it'll be 2-to-1.
Graham is 59, is unmarried, and has no kids. He's a reason that ratio is declining, which is the reason America is staring at an unprecedented crisis of entitlements. Graham, perhaps the loosest candidate in the field of GOP hopefuls, jokes about the problem with the crowd.
"Strom Thurmond had four kids after the age of 67. Do I have any volunteers?" he says of the late senator from the Palmetto State.
One man, perhaps blindly, raises his hand.
"He didn't understand the question!" Graham quips.
This is a big reason Graham was a major player in the U.S. Senate's "gang of eight," the 2013 coalition that wrote a sweeping, comprehensive overhaul to the nation's immigration laws. The bill passed the Senate by a 68-32 vote, but ran into fierce conservative opposition in the House of Representatives and was never taken up for a vote.
G/O Media may get a commission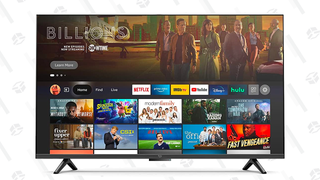 22% off
Amazon Fire TV - 50" Omni Series 4K - Early Access Deal
It's also a reason Graham, to this day, will defend to the staunchest of conservative crowds the need for an immigration-law overhaul. It comes as he sounds increasingly likely to enter the presidential arena — he told Fox News Sunday last weekend that he's "91 percent" sure he'll run for president.
"We better get immigration right and pick people from all over the world, not just ones next door," Graham said Saturday at the GOP cattle call, the First in the Nation Republican Leadership Summit.
"You're going to have to come up with an immigration system to have workers to run the economy in the future. And the reason I'm making this point — there's no room I can't go into as a candidate and look any member of the Hispanic community in the eye and say, 'Listen. I believe that you should be a Republican. You're hard-working. You're entrepreneurial. Pro-life. Patriotic. And I've tried to solve a hard problem like immigration.'"
It's a stark contrast with presidential candidate and U.S. Sen. Marco Rubio (R-Florida), another former member of the Senate "gang of eight" and would-be GOP primary opponent. In the early throes of his campaign, Rubio has waffled on the topic of immigration, both touting his experience on the issue and yet continuing to back away from the provisions in the bill he helped design and write. On Sunday, he wouldn't say whether he'd sign his own bill if he were elected president.
Rubio earlier this year told a conservative crowd near Washington that "you can't even have a conversation" about immigration reform until steps were taken to secure the U.S.-Mexico border. Last weekend, Graham offered up that conversation on his own.
"It is a problem that's hurting us national-security wise," Graham said. "It's hurting our economy."
Graham didn't mention Rubio or any other Republican candidate or hopeful by name, but it was clear he subscribes to the strategy of former Florida Gov. Jeb Bush, who has said a GOP nominee may have to "lose the primary to win the general" election.
One attendee at the conference asked Graham about his path to the nomination. Graham, who speaks as if he doesn't have much to lose, said he'll have to exceed expectations early. He'll have to finish in the top tier in both the Iowa caucuses and the first-in-the-nation primaries in New Hampshire, and he's confident he can win his home state of South Carolina, which holds its primaries in early February.
After South Carolina, Graham predicts the GOP field of about 19 — or, as he jokes, 35 — right now will be shrunk to about three or four. Then he'll have a good shot at winning the nomination. But the next words out of his mouth are illustrative.
"But it doesn't matter if I can't win the general election," he says. "We're down to 27 percent of the Hispanic vote in this country. We've gone from 44 percent to 27 percent."
In that respect, Graham sounds like a lot of more moderate Republicans who fret about the party's standing with Latino voters — and other demographics, like young people, who are more apt to favor provisions like a path to citizenship included in any reform.
But he was the only one at the summit to continue to make the case for a path to citizenship. Rubio said he'd need to see various enforcement measures put into place before talking about a path to legalization, and Bush said here that he'd support a path to "earned legal status," but not citizenship, for undocumented immigrants.
Alfonso Aguilar, a former Bush administration official who's now the executive director of the American Principles Project's Latino Partnership, is one of those fretting Republicans. Sooner or later, Aguilar said, Republicans will have to accept that immigration reform is going to happen. But he fears it may be after the growing electorate of Latinos moves further and further away from the party.
"The question is, when are Republicans going to get it? Is it going to be sooner or later?" he told Fusion earlier this year. "Are we going to have to lose a couple of presidential elections to understand that? I'm hoping that we can learn that lesson soon."
Brett LoGiurato is the senior national political correspondent at Fusion, where he covers all things 2016. He'll give you everything you need to know about politics, with a healthy side of puns.