MEXICO CITY — They call him El Brujo del Norte, or "The Wizard of the North," and he might just be the best standardized test tutor south of the United States.
Some say he was baptized with this nickname because of his teaching efficiency, others claim they just call him that because he's a gringo expat from Kansas, home to Dorothy from the beloved Wizard of Oz. Stephen Wolf doesn't exactly perform magic, but his reputation for helping students improve their SAT, GRE and GMAT scores has earned him a cultlike following among upper middle class and wealthy Mexicans who want to apply to America's most prestigious colleges and universities.
Lea la versión en español aquí.
Wolf has been teaching his students how to conquer U.S. standardized tests since the late 1990s. "I've helped some 3,000 Mexicans study abroad," he told me over a cup of coffee in his kitchen in Mexico City's Roma neighborhood.
I was one of Wolf's students in 2010. But I learned more from him than how to play the multiple choice game. "Theirs is not to reason why, Theirs but to do and die," he told me when we first met. He was citing a Lord Tennyson poem, urging me and others not to complain too much about taking the SAT but to simply pull through.
Wolf is still the character I remember, with a strong southern midwestern accent that's most noticeable when he pronounces the number "twooo." He goes off on tangents in the middle of class about local politics and his life in Kansas, all while blurting out signature phrases such as "Are you stupid, or what?"
G/O Media may get a commission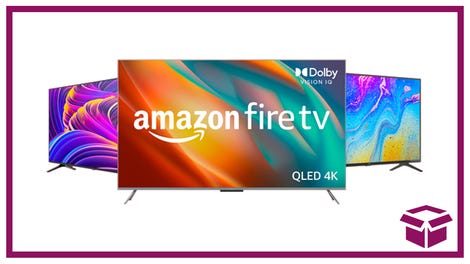 Ooh. stunning.
New Amazon Fire TVs
Wolf could have been a stand-up comedian in another life.
"The class is very entertaining," says 30-year-old Marcela García, who is now studying an MBA at the University of Chicago. "I had my doubts about Wolf's course, but at the end I decided to take it and was very pleased with the results."
"The class structure and Wolf's sense of humor make this intensive 6-hour daily course more enjoyable," says 27-year-old Adrian Escudero, a current student of El Brujo who wants to study his MBA in the U.S.
"I not only teach the information, I teach the strategy," Wolf tells me. "You have to say I can't do this question and go on. The ability to be humble plays an important role because if you try to do every problem you won't finish the test. You should know what you can't do and not mess around with it and that's the same in the emergency room."
Wolf, a former doctor, loves talking about standardized tests in medical metaphors.
"You have to know what you can do and save a life because if you don't know you'll take a life, and it's the same with these tests. In medical school we have what we call 'a see one, do one, teach one.' So I'll give them one problem on the board and they'll have a race among themselves to do it, and then they'll have to get a study group to teach one another."
Wolf doesn't advertize himself. He's built a solid word-of-mouth reputation, helping the sons and daughters of famous Mexican politicians and businessmen get into the Ivy Leagues of their dreams (or at least their parents' dreams).
He got his start in the business working for a big test preparation company and taught literature for one year at a Mexico City high school to be able to stay in the country. He then branched out and started teaching test prep from the comfort of his home. "My first class did very well and they told their friends. Now the demand is just beyond what I can do."
Young Mexicans gather around a large table in his living room to watch him write problems on a whiteboard that was given to him by a former student he helped get into Harvard.
Wolf claims he's taken every standardized test there is and he's not exactly a fan.
"This testing system is horrible, however, what's the option? There's no option," he said. "It's unfair in some ways because it's multiple choice and multiple choice is the worst way to test anything. However, it's the only way you can test massive numbers of people."
He says standardized tests are needed because they provide a seal of quality for students who are coming from different high schools and universities from across the globe.
"Brilliant people sometimes are creative and multiple choice testing is anti-creative," he explained. "There's usually one answer and the creative person thinks too much and maybe he can see something that the person who made the question can't. But again, the creative person needs to adapt."
He says the newer generation of students are getting worse at English and math. "Maybe teachers are not being good salesmen. Notice they're not in the classroom, they are out on the street," he says, segwaying into the Mexican government's latest standoff with the teachers' syndicates.
He's well versed in Mexican politics. "Teachers do not have the right to be blocking highways," he says. Ironically, the teachers' syndicates are protesting the government's implementation of a type of standardized test to evaluate their performance.
Wolf loves Mexico despite all its problems.
"Mexicans have a certain joie de vivre that maybe we've lost in the U.S. That's the joy of being alive. They have enthusiasm and for a teacher nothing is more important than enthusiasm," he says. "And they are also bound with creativity. You know, Americans are just boring, it's like they are into a routine."
But Wolf says Mexicans who study abroad come back with higher expectations and a different way of looking at things. He believes these people ultimately make the country better, stronger and more diverse.
Wolf says he's now helping students of lesser means beat the tests thanks to a series of scholarship programs in Mexico. "You got to put this in the article, take a picture," he tells me as he proudly holds up a diploma given to him by the scholarship sponsors. It reads "El Brujo."
He points to the nickname like a badge of honor.
"Of course I'm looking for the new brujo, but that's hard to find," he says of his plans to retire and pass on the baton. "But maybe we can find brujitos."