Tommy Pico finds himself at karaoke pretty often. The poet—whose debut book of poems, IRL, is available now on publisher Birds, LLC's, website—has a couple of go-tos in his repertoire. There's Fiona Apple's "Shadowboxer" and George Michael's "Careless Whisper," but he always comes back to Janet Jackson's "That's the Way Love Goes."
"Janet is an artist who is eternally useful but selectively relevant," he tells me. "She's not making a continuous bid for legitimacy. Like Sade, she drops stuff and then recedes from the public. The work is validating in and of itself."
Pico's IRL is an epic, nearly 100-page poem that follows Teebs, its queer Indigenous protagonist, on his never-ending search for Muse, an amorphous being that hops from boys to burgers to poetry to Beyoncé without warning. Told through a neurotic stream of consciousness punctuated with plenty of digital vernacular (yr, ppl, bc, etc.), the narrative evokes a kind of cyborg-like state of liminality as Teebs ducks and weaves and likes and mutes his way through a world that's neither totally online nor totally off.
After thumbing through the first couple pages, IRL begins to feel like a perennially unresolved status update, posted in the hopes of processing an uneasy interaction. Or, maybe it's closer to a series of late-night texts sent after leaving the bar fucked up and in your feelings, complete with wordplay that hovers somewhere between Freudian slip and autocorrect-forsaken typo:

Is this ad relevant to you?
We would like to enhance
your ad watching ex-
perience. Yr a garbage
person if you can't
take a good photo,
is the underlying mess-
age of "gay" "culture"
in Brooklyn The concept
of fame in the United States I hate
having my picture taken,
I say this to the photo-
grapher at this party
bc every damn party
has to b photographed
otherwise it doesn't happen
And bc the parties
are so boring, if ppl
weren't posing
there would b nothing
to do but drink. It's
too loud for convos
n they don't let you dance
in the city. He says oh
come on. I say calmly
No. n he asks is this
an Indian thing? Like
does a pic steal yr soul
or something?
I want to crumple him up in the palm
of my hand But I
guess it is a NDN
thing in the sense that
I'm NDN n doing
this thing. Posin for pics
is like not being able
to stare into the sun
for too long but kind of the
opposite—blank black lens
crystallizes the uncertainty
within.
G/O Media may get a commission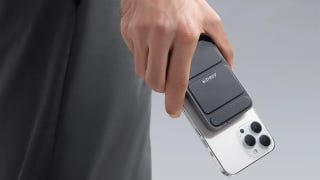 15% off
15% off Anker Top Ten Products
Take charge
Treat yourself to a portable power bank, a magnetic wireless battery for iPhones, or even a solar generator. There is a reason these are in the top ten. For instance, the Anker 747 Power Bank is a 4-in-1 charger utilizing USB-A and USB-C to be capable of charging up to four devices at once. Great to take with you when traveling and in need of keeping your phone, laptop, and even Nintendo Switch powered on.
Whatever its closest online equivalent, the missive acts as an outlet for the protagonist to finally get some shit off his chest. He's unloading, and he's going to keep on unloading until he's done—MacBook thigh sweats and his friends' carefully curated timelines be damned.
This feeling of an endless scroll is no coincidence. IRL began as a Tumblr post, Pico tells me, one that he'd add to, partially delete, and so on as a means of keeping himself engaged in the process of writing. But the 32-year-old author, who grew up on the Viejas Indian reservation of the Kumeyaay Nation before moving to Brooklyn after college about 10 years ago, isn't just using poetry to elevate the status update and other online forms of writing. He's using the status update, a means of firsthand history-making available to anyone with a library card or a data plan, to elevate poetry.
"Storytelling is really important to me, and documentation of a person like me—contemporary, self-directed, Indigenous documentation—is really important to me," Pico says, although he is quick to note that IRL is not autobiographical, despite the similarities between the protagonist and himself. "It's important to fucking prove that we're out here, 'cause nobody's looking for us."
Pico describes his road to IRL as a very long, shall we say, scenic route that, for better or worse, circumvented what he calls "the MFA Industrial Complex" of publishing. For all of that path's added difficulty, the poet, still without an MFA, says that it forced him to know himself in way he might not have otherwise. Inside and out. Online and offline. Unpublished or published, with another two books—Nature Poem (Tin House, May 2017) and Junk—on the way.
"I've been publishing zines and doing my own work [like co-hosting the "Poets with Attitude" reading series alongside poet and Other People's Comfort Keeps Me Up at Night author Morgan Parker]," he says. "All that has allowed me to find legitimacy in my own work, in my own voice, and in my own writing practice. I don't need someone to grant me legitimacy. It's something I grant myself."
Tommy Pico's IRL is available now on publisher Birds LLC's website and will hit bookstores, both online and off, on Sept. 8. If you see Tommy singing Janet at Karaoke BOHO or Shout in Astoria, feel free to flag him down for a copy.
Bad at filling out bios seeks same.