James Comey popped in for a quick visit to The View today as part of his never-ending book tour for A Higher Loyalty. Because we all actually live in a cheap simulacrum of reality, part of the interview involved the former FBI director facing off with Meghan McCain. As a result, it also involved me ripping my face off out of frustration.
After some light grilling from McCain, Comey pleaded with the audience to read the book before judging him, saying something very cute about how he hoped that if people finish the book and think he's an idiot, they at least know he's an honest idiot—if they read the book. (Please read the book!)
Then McCain really turned on the heat by invoking the honor of the first FBI director, J. Edgar Hoover—you know, the guy who created COINTELPRO and whose career was founded on abusing power:
I think that maybe J. Edgar Hoover is rolling over in his grave at [you] saying the type of things you're saying and revealing the types of things you're revealing. It doesn't seems like something the director of the FBI—why are you laughing?
G/O Media may get a commission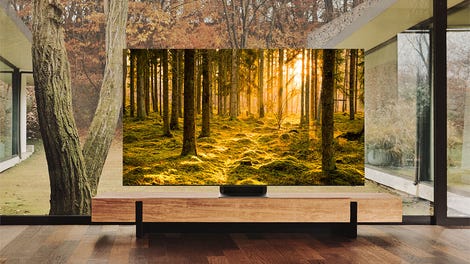 Up to 40% off
Samsung Smart TVs
I should explain: At this point, the other View panelists had started to laugh at McCain because it's an inadvertently high form of praise to say Hoover would hate you. But McCain doubled down, saying that Hoover did not write a tell-all when he left the FBI. Quick note: this is perhaps because he was still the director of the FBI when he died.
Comey claimed J. that Edgar Hoover would say he followed the rules. Great! McCain then skeptically asked Comey if "the future of the FBI is transparency," even though Comey had defended his former deputy Andrew McCabe, who, in McCain's words, was "fired for lying." If you are confused about how these two things are connected, or by anything in the previous sentence, that's because McCain was employing the kind of logic people resort to when they'd rather be mad and throw out random ideas than make any kind of sense.
I don't know how much longer I can do this y'all. I need to lie down. In conclusion, in the Celebrity Death Match between James Comey and Meghan McCain, the best possible outcome is that we all die.