Today Donald Trump went to Puerto Rico, a place for which he has done far less than he could to provide life-saving aid, and threw paper towels at hurricane survivors. It was a disgusting and ridiculous exhibition. But luckily, it was the perfect setting for Melania Trump to debut her latest natural disaster-chic fashion look.
While the first lady left Washington wearing stiletto heels—not unlike the ones she wore to Houston while visiting survivors of Hurricane Harvey—by the time the Trumps landed in Puerto Rico, she was wearing a white shirt, white skinny jeans, an almost army green jacket, a baseball hat, aviators, and, my god, Timberland boots. It's Kenny Loggins' "Danger Zone" meets hip hop. Okay, maybe it's just Fifth Harmony's "Work From Home" video.
It's extremely jarring to see Melania Trump in real boots in the first place, but of course, the fashionista still stayed true to herself in the face of the haters and donned a pair of boots that are enjoying a huge fashion moment. Never mind that the boots are steeped in hip hop and black culture—now that the likes of Karlie Kloss have gentrified them, they're safe for even the wife of the president, visiting a natural disaster-torn island.
The boots are also the perfect symbol of the first lady's attempt to appear "real" in the face of her usual high fashion aesthetic. Melania Trump's brand isn't that of disaster relief and other pedestrian activities. She's chic, she's upmarket, she's luxurious, but unfortunately being the face of America is in direct contrast with that. At the end of the day, she's going to wear what she wants, but the sudden shift from high heels to Timbs is an extremely transparent attempt to brand herself the very thing she's worked hard to avoid: normal. Relatable, even.
Aside from the occasional spiel about online bullying or her daily aggressively generic tweets, we don't really hear from Melania Trump. A lot of what is written about her (including things I've written) is based on something between assumption and projection, as if we're simultaneously decoding her and perhaps anthropomorphizing her, even though she's, you know, a human.
G/O Media may get a commission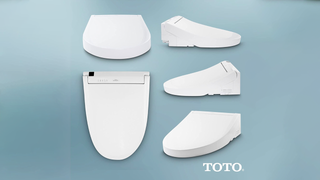 44% off
Toto Washlet Electronic Bidet Toilet Seat
But Melania does communicate a lot to us through clothing. Whether it was the infamous "pussy bow" blouse that she donned right after her husbands "Grab them by the pussy" comments surfaced or the Dolce & Gabbana jacket fiasco, her clothes speak loudly. Today, her outfit spoke above all to the baffling spectacle of her husband's response to the horrifying damage that Puerto Rico continues to suffer.