Men who make lewd comments to women on the streets of Argentina could soon be slapped with heavy fines.
An Argentine congresswoman calling for "a profound cultural change" has introduced a bill to Congress that would make catcalling a punishable offense. The proposed legislation comes as lawmakers in some South American countries take steps to crack down on street sexual harassment and domestic abuse. Earlier this year, lawmakers in Peru passed a law calling for jail sentences of up to 12 years for men who sexually harass women in public places.
"In Argentina, street harassment is something that is widely accepted and women are subjected to hearing all kinds of comments about our bodies and our sex beginning at a young age," Congresswoman Victoria Donda told Fusion in an email. "To change that, we have to put the issue out there for discussion."
Under the proposed legislation, a judge would review and investigate a woman's claim of sexual or verbal harassment. If the accused is found guilty, he could face a fine of up to 7,000 Argentine pesos, or $775 U.S. dollars at the official exchange rate.
G/O Media may get a commission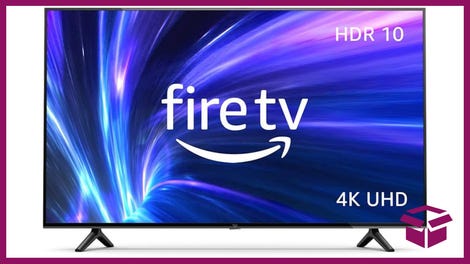 42% Off
Amazon Fire TV 50" 4K Smart TV
The bill was partially inspired by 20-year-old Argentine woman Aixa Rizzo, who made a viral video on YouTube describing how she was consistently harassed by a group of construction workers working across the street from her house. Eventually the catcalls turned into threats of sexual violence, and Rizzo got a police detail placed in front of her house.
At that point, she says, the construction workers started chanting to the police: "If we organize, we'll all get to f**k."
A recent poll conducted by the Universidad Abierta Interamericana (UAI) found that 72 percent of Argentine women said they had recently been whistled at, shouted at or hissed at by men. Nearly 60 percent said they feel intimidated and uncomfortable by catcalls.
The issue has even tripped up one of Argentina's leading male politicians.
Last year, Buenos Aires Mayor Mauricio Macri, who is currently a leading presidential candidate, came under a torrent of criticism after he effectively defended piropos, or catcalls in Spanish. He got into hot water after he was photographed ogling a 17-year-old female pop star and saying women shouldn't be offended by sexual comments directed at them.
"Women who say they don't like it, and are offended by it, but I don't believe it," Macri said. "There is nothing nicer than a piropo, even if it's accompanied by something offensive. If someone says nice culo it's all good."
Keep it up, Macri, and soon you could be paying out the culo.