Two men—one white, one Latino—were charged with killing a woman in a Dallas suburb in 1998. The white defendant pled guilty, served 17 years in prison, and got out on parole a few weeks ago. The Latino defendant claimed he was innocent and was sentenced to death. He will be executed next month.
Bill Black found the body of his wife Betty in their living room. The bullet had gone through her wrists and her chest—she had been holding her hands up to defend herself. A few yards away, in another room, her doberman Santana was also lying on the floor dead, a bullet through her back.
The killing of 64-year-old Elizabeth "Betty" Black, on Thursday, January 29, 1998, shook the tranquil Dallas suburb of Farmers Branch. Within days, police charged two drug dealers with Black's murder: Richard Lynn Childs, who's white, and Charles Flores, who's Latino.
Flores claimed he was innocent. He went to trial and a jury sentenced him to death. A year later, Childs pleaded guilty to the murder. He was sentenced to 35 years in prison, eligible for parole after 17.
Today, almost two decades after Black's murder, the two defendants are in very different situations. Flores is set to be executed on June 2. Childs was released on parole in April.
G/O Media may get a commission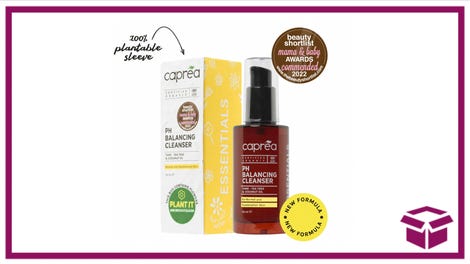 Save $9
47% Off Essential Organic PH Cleanser
Sustainable beauty
Caprea's Essential Organic PH Cleanser is just $10 with promo code TEN. Normally $19, this foaming face wash is crafted with organic Monoi oil. It's meant to target the production of oil secretion while protecting your skin against air pollution. Normally $19, you can save big on this richly-lathering face wash while supporting a brand that keeps the environment top of mind.
No physical or DNA evidence placed Flores at the scene of the crime. The only eyewitness who testified that she saw him there was hypnotized by police officers—yes, actually hypnotized—to help her recover her memory, in a procedure that violated state standards on hypnosis by law enforcement. Meanwhile, Flores' court-appointed trial attorneys didn't present a single witness in his favor during his sentencing.
I met Flores last month at the Allan B. Polunsky prison in West Livingston, Texas, a grey, boxy building where almost all of the state's 263 death row inmates are held. Flores, who's big and bald, speaks with a slight Texas drawl. "I'm innocent," he told me. "They were looking for someone to blame."
One of the reasons why Flores faced a far harsher sentence, prosecutors say, was the simple fact that he ran while Childs talked to investigators. Flores evaded police for several months in Mexico, and later made violent escape attempts.
But the disparity in the sentences and the way the two suspects were treated by law enforcement also raises questions about how race played into the case. "I was the only Mexican in the process, I was the only brown-skinned [person] present in the courtroom," Flores said. "I think it's understood in Texas, it might not be said, but if you're black or you're brown and you don't have money to pay for a top-notch trial attorney… you're in trouble."
Nationwide, minority defendants who are charged with murdering white victims are far more likely to be sentenced to death than white defendants charged with murdering minority victims. In Texas, 178 of the 246 people currently on death row are black or Latino. It's racial disparities like these that are leading many activists and legal experts to predict increased scrutiny of the death penalty by the Supreme Court in coming years.
Flores, however, doesn't have time to wait. With fewer than 30 days before he's scheduled to be executed, his lawyers are rushing to file last-ditch appeals and his family is praying for a reprieve.
Farmers Branch is a quiet town of around 30,000 people just north of Dallas. While some big businesses like JPMorgan Chase and IBM have towers built up along the interstates, most of the town is leafy and subdued, the type of suburb with street names like Stardust Lane and Mark Twain Drive.
Betty Black lived on Bergen Lane, a one-block street of low-lying, single-story homes. She and her husband Bill, immigrants from Scotland, built their house in 1961 when the block was an empty grassy patch of land. Bill worked in construction, and together they raised two kids and four grandkids.
"She was almost like a sister to me," said Jane Stone, who has lived across the street from the Blacks for more than 50 years. As she stood on her front porch on a recent afternoon, a few stray tears slid down her cheek. "It's hard to believe that it happened… she was bubbly all the time, just a happy person."
At the time of the murder, the Blacks' son, Gary, was serving 15 years in prison on a drug charge. The Blacks kept $39,000 of Gary's money hidden in their house, giving $500 a month to his wife, Jackie Roberts, to help her raise their two kids.
The night before Black's murder, Roberts and her new boyfriend, Richard "Ricky" Childs, met up with Charles Flores and several other friends to buy some drugs. Early in the morning, around 3 or 4 a.m., Flores measured the drugs they had bought and realized he had been shorted. "I told [Childs] he owed me the money and he had to get it back," Flores said. According to the prosecution, Roberts told Childs and Flores about the money in Black's house, and they decided to rob Black and call it even.
Witnesses saw two people arrive at the house around 7 a.m., with Childs driving a V.W. Bug painted in psychedelic purple and pink. The two pulled open the garage door and slid under, carrying guns with potatoes stuck on the end of the barrels as homemade silencers. When they shot Black and her dog, fragments of potato were splattered around the room. Then the robbers punched in several walls, looking for the hidden drug money, but couldn't find it. They drove away without taking a dollar.
Flores told me that he was an hour away from Black's house when the murder happened. After he realized he was shorted on the drug deal, he said, he went back to his home in a trailer park in Irving, another suburb. "I was at home with my wife," he said. "I cooked breakfast."
That morning, Bill Black arrived home from work to find his wife dead, her blood soaking the carpet. Police arrived quickly on the scene, canvassing the neighborhood. Within days, Jackie Roberts and Richard Childs were arrested.
In an audio recording of Childs' interview with Farmers Branch police officers—which I obtained through a Freedom of Information Act request, along with 2,300 pages of documents related to the investigation—officers pressed him to confess to his role in the crime. They start off by telling him how they see the situation: "Ricky, you're fucked," one detective says.
But it's clear that they've already got their sights on Flores. "Charlie's a pretty bad cat," a detective tells Childs. "We've heard all kinds of rumors about Charlie being in the Mexican Mafia… [his] house is full of some pretty nasty characters."
Their conversation has a relaxed tone, with jokes and laughing peppered throughout. Childs says he's scared of Flores, and the detectives promise to "protect your ass." "We're gonna take care of you," one says.
Meanwhile, Flores heard on the radio that police were looking for him for capital murder. He says Childs left the car—that psychedelic purple Bug—behind his house. Flores panicked, and decided he needed to get out of town.
That began his extensive escape attempt. First, the same morning Childs was arrested, Flores attempted to burn the car. When a passerby seemed interested in why he was setting a car on fire, Flores fired a gun at him several times to scare him away. Then he drove off to Mexico for several months.
Flores was arrested in May 1998 after returning to Texas to see his family—FBI agents tailed him leaving his parents' house. They got in a high-speed highway chase through the Dallas urban sprawl that ended with Flores totaling his mother's blue Volvo, getting out and sprinting through backyards. He didn't run fast enough.
A few months later, in July, he made another unsuccessful escape attempt when police brought him to a hospital to treat his injuries from the car crash. Flores, unsecured in a hospital wheelchair, was being wheeled into the hospital when he jumped up and started attacking the officer escorting him, beating him with his stick and spraying him with his mace. Several doctors tackled Flores before he could get away.
Flores says he isn't proud of what he did. "People say that guilty people run, but I can also tell you… you also run if you're scared, you run when you know they can give you a life sentence, you also run if you know you're the only Mexican in a group of whites," he told me. "I ran because I knew what was going to happen."
His trial took place the next year, in March 1999, at the dreary county courthouse that towers over a tangle of highways. Flores was given two court-appointed defense attorneys, but only one of them came to prison to meet him before the trial began—and only two or three times in the year leading up to the trial, he said.
It started with days and days of jury selection. At one point, Flores' attorneys objected to the fact that prosecutors had stricken two potential Latino jurors from the jury pool. It's unconstitutional to eliminate jurors based only on their race—but not if attorneys can provide other reasoning, such as if a potential juror has a relative who has been incarcerated.
Judge John Nelms said he didn't think race played a role in one of the two dismissals, but proposed a hearing on the other juror's dismissal. That hearing—apparently forgotten by the judge—never happened and Flores' attorneys never made sure the issue was revisited. (On Flores' final jury of six men and six women, there was one Latina woman.)
The Dallas District Attorney's office has long been tarnished with allegations of racist jury selection procedures. In the '60s and '70s, prosecutors were given a jury selection manual that included the following instructions: "Do not take Jews, Negroes, Dagos, Mexicans or a member of any minority race on a jury, no matter how rich." In 1986, the Dallas Morning News found that nine out of 10 potential black jurors were excluded from juries. The Supreme Court threw out several convictions from this era, finding in 2003 that the office was "suffused with bias."
Under D.A. Bill Hill, who supervised Flores' prosecution, prosecutors were still more likely to strike minority jurors, a 2005 Morning News investigation showed, and at least one death penalty conviction secured under Hill was also overturned due to biased jury selection.
Testimony began on March 22, 1999, with a parade of prosecution witnesses. There was considerable circumstantial evidence that pointed to Flores: One witness confirmed that Childs and Flores were together just a few hours before the shooting—they had all smoked meth together that morning, which Flores admits. One of Flores' friends, Homero Garcia, and the father of his girlfriend, Jonathan Wait, also testified that Flores told them that he was present during Black's shooting. They said Flores told them he had shot the dog and Childs shot Black. At one point, Flores' father Catarino signed a sworn affidavit saying Flores had told him the same thing. (Flores maintains that he was not at the scene of the crime, and that his friends and family were pressured into making these statements by the prosecution.)
But no physical evidence of any kind was presented. No fingerprints, blood testing, DNA, or anything else that connected Flores to the crime scene. The investigation didn't even find the murder weapon.
Flores says he was barely paying attention to his own trial. Instead, he was focused on the shock belt strapped around his chest, a device that could send 50,000 volts coursing through his body at the press of a button by a sheriff's deputy who sat in the row behind him. "Don't make any fast movements, or you'll make me nervous," he remembers the deputy whispering in his ear. "Zap the heck out of him if he creates any disturbance," the judge said at one point.
---
The star witness for the prosecution—the only witness who could place Flores at the scene of the crime—was the Blacks' next-door neighbor, Jill Barganier. At 6:45 a.m. on the day of the murder, she was looking out her window when she saw two men drive up in the Bug and go into Black's garage.
In the days after the murder, Barganier quickly identified Ricky Childs in a police lineup. But she couldn't identify the passenger in the car. She described him as a white man with shoulder-length dark hair.
Barganier, a self-described "nervous" person, asked the police to hypnotize her to help her remember what she saw. Hypnosis isn't common among police investigations in Texas—but it's also not unheard of and has legal precedent. On the morning of Feb. 4, 1998, six days after Betty Black was found dead, Barganier came into the police station for a hypnosis session conducted by Alfredo Serna, an officer in the department.
Grainy video of the hypnosis shows Barganier, who's slight and blond, sitting in a chair in the office wearing a black and white striped shirt. She seems tense, her shoulders hunched up. "I want you to concentrate on the sound of my voice," Serna tells her. "Just relax and listen to my voice." He slowly counts down from 100 to zero, and then begins describing an intricate scene. He tells her to imagine walking into a building, opening the doors of a movie theater, sitting it a comfortable leather chair. The movie, he tells her, will be of her memories on the morning of the murder.
She describes what she sees, her eyes closed but her hands moving, speaking in a fragmented, odd voice: "He has dark hair… I can't see." After the hour-long session was over, Barganier hadn't come up with anything new. With the help of officers, she drew a composite image of the passenger in the car: a creepy black-and-white drawing of a man with long hair.
It doesn't look anything like Flores. "I don't think I've been medium-sized since I was in seventh grade," Flores said. He's always had a short haircut and he isn't white. But the officers still gave her a photo lineup that included a photo of Flores. She couldn't identify him.
So by the time the case went to trial, the police still hadn't found any witnesses who could place Flores at the scene of the crime. Without any physical evidence, the prosecution didn't seem to have a very good case. Flores remembered that one of his attorneys told him before the trial began that they could not convict him. That day, Flores called his family and told them, "I'm coming home."
That all changed on March 23, 1999, the second day of the trial, when Barganier was called to the witness stand. While she was only in the courtroom for a few minutes before her testimony was postponed, she told a prosecutor later that day that she had suddenly recognized Flores. She was willing to identify him in court.
Flores' defense attorneys scrambled to throw her testimony out based on the hypnosis. As they pointed out, the hypnosis session violated several standards laid out in a Texas case called Zani v. State. Under that case decision, hypnosis sessions were supposed to be conducted independent of the investigating police department, held outside a law enforcement atmosphere, and conducted in a room that was empty except for the subject and hypnotizer. The videotape of any hypnosis session was also supposed to show everyone present in the room where the session took place.
Barganier was hypnotized by a Farmers Branch police officer, in a room in the Farmers Branch police department, while another investigator sat in the room. And the videotape only shows her, and neither of the two officers.
It's also not clear how much Barganier could have seen on the day of the murder. The sun didn't rise that day didn't until 7:25 a.m., according to an almanac submitted as evidence in the trial, while she claimed to have seen the men at 6:45 a.m.
And the fact that she had suddenly identified Flores after 13 months raised questions of bias. Barganier admitted that she had seen photos of Flores in the news in the months before the trial. Judge Nelms pointed out that everyone sitting at the prosecution and defense benches was white, except for Flores. "Honestly you don't have to be a rocket scientist to pick out who is the Hispanic individual in the courtroom," he said.
But he concluded that Barganier's testimony was reliable. The next day, she told the jury that she had seen Flores get out of the car and go into Black's house. A prosecutor asked how sure she was. "100 percent sure," she responded.
Barganier did not respond to several requests for an interview.
In later appeals, Flores' defense team submitted testimony from Edward Geiselman, a UCLA professor and leading expert on witness interviewing. Being hypnotized could have made Barganier think she should be able to recognize the passenger in the car, Geiselman wrote in an affidavit. So when she was presented with only one option at the trial—the one Latino man sitting in front of her, the same man she had seen on the news for months—it was easier for her to feel sure it was him.
At the trial, however, the defense team didn't present any expert testimony to rebutt Barganier's identification. In fact, Flores' attorneys only called a single witness during the whole trial, a gun expert who testified that a gun belonging to Flores that the police found was not the murder weapon.
Flores' mother Lily, who's now 79, told me that she and her husband wanted to speak in her son's favor during the sentencing phase of the trial. But prosecutors threatened to charge them with aiding and abetting a fugitive: Flores had used Lily's car in Mexico and his parents had sent him money while he was there. If they testified in favor of Flores, "they were going to put us in jail and throw away the key," Lily said. "They would give us 30 years."
The prosecutors took advantage of his family's absence. In his closing argument, prosecutor Greg Davis started asking questions: "Where is one person, just one person, neighbor, friend, family member, just one person to tell you that there is just one thing redeeming about this man?" His co-counsel Jason January came in next. "It's a reasonable deduction from the evidence that they don't have anything good to say about the defendant, his parents, his brothers," he said.
Prosecutor Mary Miller ended her closing argument with a dramatic flourish. "On January 29th of 1998, Elizabeth Black looked, as you do now, upon the face of evil. And it has a name, and its name is Charles Flores."
On Mar. 30, 1999, the jury found him guilty. Two days later, after hearing of Flores' previous history of drug and robbery convictions, they sentenced him to death.
"Justice has been served," Black's daughter, Sheila Brockman, told the Dallas Morning News after the sentence was handed down. (Brockman declined an interview request last month, saying she was too emotional about the case.)
Stone, Black's friend and neighbor, said that although she thinks Flores got what he deserved, she doubted his execution would be any real comfort. "How do you get closure with that?" she asked. "You'd like to think it would be closure but I don't know how it would."

---
Right now, as Flores counts down the days to his execution, Richard Childs is out of prison.
Even though Childs was arrested months before Flores, prosecutors waited to bring him to trial until after Flores' conviction. It wasn't until more than a year later that Childs signed a guilty plea on April 5, 2000.
Childs, who did not testify during Flores' trial, had agreed to a plea bargain in which his charge of capital murder—murder that is eligible for the death penalty—would be reduced to simple murder. He would serve 35 years in prison, and be eligible for parole after half the sentence.
The reason Texas law can find two people guilty of the same murder is because of a doctrine called the Law of Parties, which holds accomplices who participate or conspire in a crime to the same level of accountability as the person who actually committed the crime. Basically, you can be guilty of murder even if you didn't pull the trigger.
Taking into account his time already served, Childs was first eligible for a parole hearing in August 2015. He was granted parole, according to state records, and released into a halfway house in early April this year. The exact details of Childs' parole are confidential, but most offenders serve 90 days in halfway houses.
On the day he was set to be released, as a morning drizzle dissolved into a sunny day, I sat in the parking lot of the Kyle Unit prison, south of Austin, where Childs had served the last part of his sentence. Childs didn't walk out—he was instead taken directly to the halfway house—but I gave my card to his social worker and asked her to have him call me. He hasn't called me.
In a 2003 appeal that was thrown out by a state court, Childs claimed that his trial lawyer had pressured him into pleading guilty to the murder, and that he wasn't the actual shooter. His lawyer responded in an affidavit that Childs could be on death row if he hadn't pled guilty.
Last week, I spoke with Jason January, the lead prosecutor in the case. He said that after 17 years, he didn't remember every detail of the case, but that he was proud of the work he had done.
"Our job was to present the facts to the jury, and his facts weren't too good for [Flores]," January said. "His actions, including killing an innocent grandmother, her dog, putting silencers on weapons, fleeing law enforcement multiple times, shooting at police officers, didn't give the jury anything mitigating to give him anything other than the death sentence.
"Flores had a lifelong history of criminal and violent activity, and if you've ever seen Charles Dickens—Scrooge and all that stuff, you kind of wear your own chain," he added. Childs, however, had a similarly long criminal history as Flores, including burglary and possession and distribution of meth, according to state records.
But January said that he wasn't concerned with the wide difference in sentencing that Flores and Childs received.
"If you talk to the jury, they didn't care much whether [Flores] pulled the trigger or not, he was there participating fully and wholeheartedly in the crime," January said. "And in Texas, you're as guilty as the triggerman. You can't escape responsibility in a criminal endeavor just because you didn't pull the trigger."
On a sunny morning a few weeks ago, I met Flores's mother, brother and sister-in-law at their home in Irving, another Dallas suburb. Tony Jojola, his brother, rolled out from under a car he was fixing and invited me in.
Inside their lovingly decorated living room, with faded curtains and a big photo of Flores making a heart with his hands, a couple of eager chihuahuas ran around. In a corner, a litter of a half-dozen tiny four-day-old puppies cuddled each other in a laundry hamper. (Flores, who loves animals, dreams of opening up an animal shelter if he's released.)
For the last 17 years, Flores' sentence has weighed the family down, and now that his execution date is getting closer, it's hard to take. "When they sentence somebody to death row, it's not just that person they sentence, it's the whole family," his mother Lily said, breaking into sobs. "The whole family suffers."
Flores grew up in Midland, in West Texas, the youngest of five brothers. His father Catarino, who's now in a nursing home, owned a roofing and construction business, and they would move around the area, chasing the hail storms that rained down on the towns in the vast Texas plain.
According to Flores, his older brothers started giving him marijuana to smoke when he was six or seven years old. As a young adult, he got into smoking meth, and was soon using every day, and selling it as well. "I didn't see anything wrong with it because everyone I knew did the same thing," he said.
His family thinks of him as an outgoing, caring person, who always asks about others in his letters and makes his relatives hand-drawn birthday cards. They laugh over childhood memories, like when Flores taught himself to recite every Dr. Seuss book by heart—the kind of humanizing anecdotes that his jury never heard.
At the trial, "they portrayed him as somebody that death row is made for," Jojola, 60, said. "They already had their minds made up."
Now, the family regularly makes the drive down to his prison in West Livingston, which is north of Houston. Since January, when Flores' execution date was set, they've been going every two weeks. The trip takes three and a half hours each way, through wide open plains and rolling hills. Inside the prison, they have a few hours to spend with Flores, talking through a thick glass panel as he sits inside a rusted metal booth.
"I haven't touched my son since he got there, haven't hugged him or anything," Lily said.
(After our interview, Flores gave me a message for his mother: "You tell her, I love her more than anybody in the world, and she's the best momma ever, and I wouldn't trade her for the Queen of England.")
In the Polunsky unit, Flores spends 23 hours a day in solitary confinement, getting a daily hour of recreation. He writes, meditates, and corresponds with pen pals around the world. He sends letters back and forth with a group of lawyers and journalists in New Zealand, and had a concert held in his honor by a French advocacy group. Flores even published a book about his experiences on death row, titled Warrior Within.
Flores isn't proud of a lot of what he did. "This place gives you a lot of time to think," he said. "I acknowledge, I was not a good person when I was free." But he says he's changed his life, and he thinks he deserves a second chance at justice. "I would like a fair hearing of the case, because it never happened… I'm not asking for anything else, just a fair trial."
His appeal to the U.S. Supreme Court was rejected in January, but Flores' lawyers are still working to find a way to postpone the execution date. Bruce Anton, his federal appeals attorney, said he was planning to file several new appeals in the coming days. Anton told me he thinks the case is an example of a lack of adequate counsel. "His attorneys at trial failed him, his attorneys on appeal failed him, his original federal attorneys failed him," Anton said. "He did not have the opportunity to present his case in the right light." (Flores' lead trial attorney did not respond to a request for an interview.)
With just three weeks left until his execution date on June 2, Flores is trying to stay centered. He's told his family not to cry for him until he's gone.
"Believe me, death is the great equalizer," he said. "When everyone is facing execution, it doesn't matter if you're black, white, brown, green, it doesn't matter. You're all the same."
Update: This post was updated to clarify the distance between Farmers Branch and Dallas.
Casey Tolan is a National News Reporter for Fusion based in New York City.