Mexican President Enrique Peña Nieto announced Wednesday that his finance minister, Luis Videgaray, will be stepping down from his post for reasons that are not being explained. Some Mexican media however is speculating that Videgaray could be taking the fall for helping orchestrate Donald Trump's visit to Mexico City last week, an event that turned into a full-blown fiasco for the Peña Nieto administration.
At the press conference Wednesday, Peña Nieto said he had accepted Videgaray's resignation and would replace him with Jose Antonio Meade, the country's minister of social development and a former finance minister under ex-President Felipe Calderón.
The sudden and unexpected move comes as the biggest shake up in Peña Nieto's cabinet so far. Videgaray led Peña Nieto's 2012 campaign and was often seen as the president's right hand man. As finance minister he played a key in devising, negotiating and implementing Peña Nieto's structural reforms.
But the country's economy has failed to live up to the administration's promises. Mexico's currency has deeply depreciated against the dollar, and the administration has been forced to repeatedly pull back on growth forecasts. Mexico's long-awaited energy reform has also stumbled amid the collapse in world oil prices.
During his tenure as finance minister, Videgaray was no stranger to scandals. In 2014 The Wall Street Journal revealed that he had purchased a house from the same government contractor involved in the first lady's housing scandal.
G/O Media may get a commission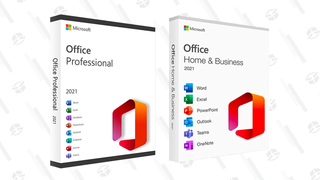 89% off
Microsoft Office Professional 2021 Lifetime License
Still, the timing of Videgaray's resignation is raising eyebrows.
It comes just a week after a wave of bad press over Trump's visit, in which numerous Mexican intellectuals, journalists and political pundits slammed the government for inviting the Republican candidate to Mexico City. Some analysts called the invitation a "betrayal" — a feeling that became even more acute when Trump returned to the U.S. and took the stage in Arizona to continue his Mexico-bashing and insistence that Mexico would pay for his wall.
Peña Nieto says he invited Trump in an effort to ease the candidate's rhetoric against Mexico. But that gamble has been deemed a failure by most analysts. Democratic candidate Hillary Clinton also rejected Peña Nieto's invitation this week, saying she would focus on the election at home.
Videgaray's "resignation" seems to be an attempt to take the fall for a political miscalculation but in the short term it could also further weaken ruling party unity as the opposition gears up for Mexico's 2018 presidential race. President Peña Nieto is certainly no longer an asset to his party—in fact, he's a liability. He continues to slump in the polls and his meeting with Trump has turned into a beating for him.
Given the current political scenario, Foreign Affairs Minister Claudia Ruiz Massieu and Minister of the Interior Miguel Angel Osorio Chong are viewed as likely candidates to battle it out for the ruling party's nomination. But right now all eyes seem to be on the opposition frontrunners: former first lady Margarita Zavala and leftist politician Andres Manuel Lopez Obrador.
Ironically, Peña Nieto has repeatedly stated that Mexico will not intervene in the U.S. election cycle. But the opposite became true, as today's cabinet shake up seems to suggest.