MEXICO CITY— At this week's annual Christmas party thrown by the left-leaning Party of the Democratic Revolution (PRD) lawmakers took seasonal joy in beating a Trump piñata and then chanting Mexico's infamously homophobic puto chant at the effigy of the U.S. president-elect.
A video of the celebration quickly made the rounds on social media and news outlets, drawing criticism from the ruling party (PRI) and the conservative opposition (PAN), who decried the stunt as a vulgar act that could risk a further deterioration of U.S.-Mexico political relations.
But the PRD is defending the stunt. Senate President Miguel Barbosa, who asked his fellow lawmakers at the holiday fiesta to "salute" Trump with the homophobic chant, defended the piñata beatdown as "Christmas ingenuity."
Barbosa even paraphrased Mexico's iconic singer Vicente Fernandez by boasting: "The day I have Donald Trump in front of me, I'm going to spit in his face."
The PRD then issued a press release criticizing Mexico's ruling party and the presidency for kowtowing to Trump.
Many Mexicans seem unamused by the piñata antic. At this point in the game, Mexicans want their politicians to define a coherent strategy to counter and contain the Trump threat, rather than wasting time with childish and indecorous stunts.
G/O Media may get a commission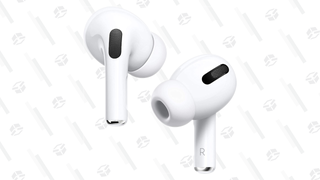 28% Off
Apple AirPods Pro Wireless Earbuds
Mexican Senators. Showing imbecility in the face of danger.
A president that kneels before Trump. A Foreign Affairs Ministry that launches an app to confront him. A group of Senators partying with a piñata.
Senator Barbosa hitting the Donald Trump piñata
Hi, I'm a senator from the left and this is my foreign policy focus: *he screams homophobic slurs at a Trump piñata*.
Disappointing that the senators think this helps build a better U.S.-Mexico relationship, same when they wore those [Hillary Clinton] shirts…